Attention! This Geocache is "Archived"! There is no physical container at the specified (or to be determined) coordinates. In the interest of the place it should not be necessarily to search!
N 51° 16.466' E 012° 18.951' (WGS84)


Convert coordinates
Size: small
Status: Archived
Time required: 0:15 h Route: 0.2 km
Hidden on: 25 October 2007
Listed since: 25 October 2007
Last update: 17 November 2013
Listing: https://opencaching.de/OC467E
Also listed at: geocaching.com

33 Found
1 Not found
4 Notes
1 Maintenance log
2 Watchers
0 Ignorers
512 Page visits
0 Log pictures
Geokrety history
1 Recommendations


Description Deutsch (German)
Schloss Knauthain

1. Hälfte 10. Jahrhundert entsteht an diesen Ort eine Wasserburg als deutscher Herrensitz. Von 1700 bis 1703 wurde auf ihren Grundmauern das Knauthainer Schloss für Karl-Hildebrand von Dieskau erbaut. Es entstand im französisch-klassizistischen Stil an der Stelle des alten Wasserschlosses. Später wurde dann der das Schloss umgebende Park angelegt, zu dem die Öffentlichkeit allerdings keinen Zutritt hatte. Wegen finanzieller Schwierigkeiten musste die Familie Dieskau das Schloss 1753 verkaufen. Neuer Besitzer wurde die Familie von Hohenthal. Bereits 1936 wurde es zur Schule (60.POS Bernhard Dornberger) umgebaut und bis zum Frühjahr 2003 als solche genutzt. Wie zu erfahren war, gehen Historiker davon aus, dass gerade in den tiefen Kellergewölben noch einiges zu entdecken ist. Im Moment scheinen erste arbeiten am Schloss zu beginnen es wäre schade wenn dieses Schloss einfach verfallen würde.

Der heute verwilderte Park wurde im 19. Jahrhundert im englischen Stil angelegt und lässt heute nur noch im Ansatz die damalige Pracht erahnen.

Wenn du mit dem Auto anreist kannst du an diesen Koordinaten Parken wo anders könnte es teuer werden.

Der Cache befindet sich in 188m Richtung 71° wahre Nordref.

Pictures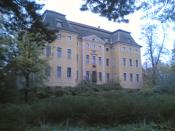 Schloss Knauthain heute

Utilities
This geocache is probably placed within the following protected areas (Info): Landschaftsschutzgebiet Leipziger Auwald (Info), Vogelschutzgebiet Leipziger Auwald (Info)

Show cache recommendations from users that recommended this geocache: all


Search geocaches nearby: all - searchable - same type



Download as file: GPX - LOC - KML - OV2 - OVL - TXT - QR-Code

When downloading this file, you accept our terms of use and Data license.


Log entries for Knauthainer Schloss

33x

1x

4x

1x


19 April 2013 ABC-Gärtner found the geocache
Schloss Knauthain, was hat mich da mein Frauchen öfters durch den anschließenden Park "geschleift" :). Sie war ja hier eine Zeitlang zur Schule gegangen. Danke fürs zeigen und die Geschichtsstunde.

10 February 2013 urdarköttur found the geocache
Ein wirklich schönes Schloss, von dem Cachefinal aus auch aus einem guten Blickwinkel. Gepeilt gesucht, gefunden. TFTC

03 February 2013 Exil-Berliner found the geocache
Heute mal in diese, für mich sehr recht weite, Gegend zum cachen ausgesucht. Gleich der erste Multi hier war ein schöner und kurzer mit einer prima Dose samt TB zum discoveren. Der Anblick des Schlosses und der ganzen Gegend strahlt selbst im Winter Gemütlichkeit und Ruhe und Entspannung aus. Ein Pferdehof mit weitläufigem Auslauf komplettiert das Ganze.

Danke für den Cache

[Show all log entries]