Attention! This Geocache is "Archived"! There is no physical container at the specified (or to be determined) coordinates. In the interest of the place it should not be necessarily to search!
N 51° 34.750' E 012° 22.408' (WGS84)


Convert coordinates
Size: micro
Status: Archived
Time required: 1:00 h Route: 4.0 km
Hidden on: 22 November 2009
Listed since: 22 November 2009
Last update: 25 April 2012
Listing: https://opencaching.de/OC985C
Also listed at: geocaching.com

2 Found
0 Not found
1 Note
2 Watchers
1 Ignorers
80 Page visits
1 Log picture
Geokrety history

Dangers

Infrastructure

Route

Time

Seasonal

Preparation needed


Description Deutsch (German)
Die wahren Koordinaten sind:
N 51° AB.CDE / E 012° UV.XYZ
Wer die beiden Sudoku löst, findet den Cache wahrscheinlich dort recht schnell!
Parken kann man bei
N 51° 33.812' / E 012° 20.558' - langer Marsch
oder
N 51° 34.335' / E 012° 23.351' - kurzer Marsch

Additional hint

Decrypt
Cnß nhs, qnf Zbbf vfg tyngg!
A|B|C|D|E|F|G|H|I|J|K|L|M
N|O|P|Q|R|S|T|U|V|W|X|Y|Z

Pictures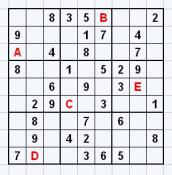 Majest1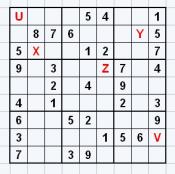 Majest2

Utilities
This geocache is probably placed within the following protected areas (Info): FFH-Gebiet Ehemaliger Übungsplatz mit Paupitzscher See (Info), Landschaftsschutzgebiet Goitsche (Info), Vogelschutzgebiet Goitzsche und Paupitzscher See (Info)

Search geocaches nearby: all - searchable - same type



Download as file: GPX - LOC - KML - OV2 - OVL - TXT - QR-Code

When downloading this file, you accept our terms of use and Data license.


Log entries for Majestät im Sonnental

2x

0x

1x


25 April 2012 mic@ wrote a note
Bitte bei Statusänderungen die bei geocaching.com durchgeführt werden, auch immer hier den Status ändern. Analog zu GC setze ich den Status für diesen Cache jetzt auch auf "Archiviert".
mic@ (OC-Guide)

16 August 2010 deblg found the geocache
Heute erst mal die Sudokus gelöst, die es beide in sich haben. Das erste war schon reichlich hartnäckig das zweite habe ich nur mittels selbstgeschriebener Exceltabelle gelöst. Auf dem Blatt Papier hätte man sich sonst die Kugel gegeben! Ja und dann ging es mit den Koordinaten zur besagten Stelle. Der Hinweis ist übrigens immer noch brandaktuell. Die Koordinaten, die im Cache angegeben sind, weichen geringfügig von der Lösung ab. Bitte irgeneinmal abändern. Habe geloggt und nichts rausgenommen und nichts reingelegt und alles schön wieder versteckt. Vielen Dank für diesen Cache

29 November 2009 reSep found the geocache
14:10Uhr [8D][8D]FTF[8D][8D]
Ich wollte schon lange Mal in diese Ecke vorbei schauen und da bot sich das Rätsel, plus Aussicht auf ein FTF förmlich an. Das Sudoku war schnell gelöst und schon saß ich im Auto. Parkkoordinaten in das Autonavi eingeben und los düsen. Großer Fehler, das Navi schickt mich auf einen abseits gelegenen Waldweg und da ich mich in dieser Gegend überhaupt nicht auskenne, ging es erstmal Querfeldein. Bis ich Schilder sah [:O], die mich etwas Nachdenklich machten, naja, da muss ich wohl durch. Also ging es durch das hohe Gras immer näher an die gelösten Koords ran. Noch 200m.....ahhh ein geteerter Weg.... alles klar. Hätte mich auch verwundert!? Dann noch 10m....ahhh....deshalb der Titel. Dann ein wenig ratlos herum gestanden und gesucht. Okay, man muss auch mal den Blick heben und schon war alles klar, wo die kleine Dose nur versteckt sein konnte. *Jubel* und auch noch der Erste. In der Zwischenzeit kam noch ein Fahrradfahrer dazu, aber keine Ahnung, ob der auch auf der Suche war. Zurück ging es dann auf dem schön geteerten Weg in Richtung Auto.
Vielen Dank und Grüße
reSep

Pictures for this log entry:
schild