Stern 1 Bad Belzig
Stern 1-ein Schatz voller Fasthalbedelsteine
by Snimok

Germany > Brandenburg > Potsdam-Mittelmark
Attention! This Geocache is "Archived"! There is no physical container at the specified (or to be determined) coordinates. In the interest of the place it should not be necessarily to search!
N 52° 07.692' E 012° 32.725' (WGS84)


Convert coordinates
Size: normal
Status: Archived
Hidden on: 20 March 2011
Listed since: 20 March 2011
Last update: 26 September 2015
Listing: https://opencaching.de/OCBFF8


4 Found
5 Not found
0 Notes
2 Maintenance logs
3 Watchers
1 Ignorers
359 Page visits
0 Log pictures
Geokrety history

Dangers


Time

Seasonal

Persons


Description Deutsch (German)
Ein Schatz voller Fasthalbedelsteine. Günstig mit einer kurzen Wanderung am Kunstwanderweg von Bad Belzig aus anzugehen.
Viel Spass beim suchen...

Pictures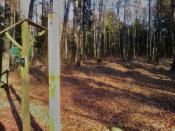 Stern 1

Utilities
This geocache is probably placed within the following protected areas (Info): Naturpark Hoher Fläming (Info)

Search geocaches nearby: all - searchable - same type



Download as file: GPX - LOC - KML - OV2 - OVL - TXT - QR-Code

When downloading this file, you accept our terms of use and Data license.


Log entries for Stern 1 Bad Belzig

4x

5x

0x

2x



26 September 2015 Opencaching.de has archived the cache
Dieser Cache ist seit mehr als einem Jahr "momentan nicht verfügbar"; daher wird er automatisch archiviert. Er kann vom Besitzer jederzeit instand gesetzt und reaktiviert werden.


25 September 2014 Bundy609 has disabled the cache
Den vorliegenden Logs zufolge ist der Cache weg. Der Owner sollte hier dringend vor Ort erscheinen und die Lage überprüfen; bis dahin setze ich den Status auf "Momentan nicht verfügbar". Sobald der Cache wieder gesucht werden kann, so kann dieses Listing durch den Owner selbständig über ein "kann gesucht werden"-Log reaktiviert werden.
Bei Unklarheiten oder Fragen kannst du gerne mich oder das Team kontaktieren.
Bundy609 (OC-Support)

21 March 2013 Snimok found the geocache
Sollte der Schnee die nächsten Tage Tatsache weichen und der Frühling einzug halten, dann werde ich mal prüfen gehen ob der Cache durch die Holzfällarbeiten eventuell abhanden kam ... Vielleicht solltet ihr bis dahin Abstand von der Suche nehmen .... Was euch aber nicht abhalten sollte mal dort mal einen Spaziergang zu machen... es lohnt sich... 

[Show all log entries]