Description Deutsch · English
The hiking trip:
Park at the beginning of the narrow road to the Coll d'es Figureal. You could drive on this road for quite a bit but it is very narrow and parkingplaces along the road are rare. Follow the road until you reach the olive gardens of S'iletta de Can Gordo. Pass the first gate on the right, before you reach the second gate follow the stonecairns downwards. You'll reach a great hikingpath above the cliffs which you follow until you reach the Coll de Rei Moro - a gap in the mountain below an enormous overhanging rockspire. Keep left and follow the path down into the usually dry creekbed of Torrent de Na Mora. Go up the creekbed until you reach a narrow slotcanyon, the cache is hidden above the western wall in about 20m height, in an horizontal crack next to a curious rockshelf. The 4.5 Terrainstars are for the immediate approach to the cache. Hint: if air and water-temperatures allow try swimming through the last pool and approach the cache from upriver.
Further trips in this area:
Across the valley from the Coll de Rei Moro the great Pas de s'Heura leads to Balitix D'Amunt from where you could go down to Port de Soller again. Consult a map and the Path-Spoiler before you attempt this path though.
Just above the lower canyon of Na Mora, a path marked by very few stonecairns leads to Torre de na Seca - only for real pathfinders.
The canyoning trip:
Start at Balitx D'Aval and descent the fun first part of the canyon (jumps up to 7m, highest rope descent: 15m), unfortunately the canyon is dry during summer. After the 7m jump you stand in front of a narrow slotcanyon with a deep pool. Climb the left wall of this slotcanyon to find the cache hidden in an horizontal crack next to a curious rockshelf. For the upper part you'll need a full neoprene wetsuit, 25m of rope and a descending device. If you want to continue to the sea, you'll need 30m of rope and ascending devices since you'll have to climb back up fixed ropes if the sea is to violent for you to swim out.
A|B|C|D|E|F|G|H|I|J|K|L|M
N|O|P|Q|R|S|T|U|V|W|X|Y|Z
Spoiler near/Spoiler nah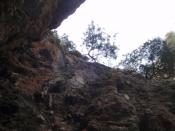 Spoiler far/Spoiler fern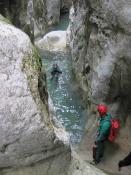 Upper canyon/Oberer Canyon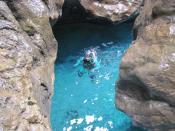 Mündung ins Meer/End of the canyon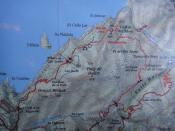 Map/Kartenausschnitt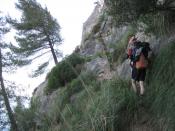 Path before Coll de Rei Morro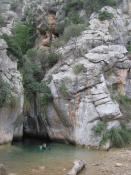 End of the first canyon/Ende des ersten Canyons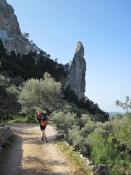 Near S'iletta de Can Gordo/Nahe S'iletta de Can Gordo

Search geocaches nearby: all - searchable - same type



Download as file: GPX - LOC - KML - OV2 - OVL - TXT


When downloading this file, you accept our terms of use and Data license.