Descripción Deutsch (Alemán)
Piana degli Albanesi – Village of the Albanians
Piana degli Albanesi (Albanian: Hora e Arbëreshëvet; Sicilian: Chiana) is an Italian comune with about 6000 inhabitants in the Province of Palermo. It is the most important and populous Arbëreshë communities in Sicily and it is the episcopal see of the Byzantine Catholic Church. The community has maintained many ethnic elements of Albanian culture like language, religious ritual, traditional costumes, music and folklore. The inhabitants are the descendants of Albanian families, including nobles and relatives of Skanderbeg, that settled in Southern Italy during the Ottoman Turkish conquest of the Balkans. The exodus began after the defeat of the Byzantine Empire and the death of Skanderbeg, who successfully fought for the freedom of their people for more than two decades.
King John II of Spain and Sicily allowed the original refugees to occupy the present place and to preserve their Orthodox religion, which was identified as Greek, so that the small town had the name of Piana dei Greci. In the beginning it was called "Piana dei Greci" for the use of Greek language in the Byzantine rite professed by the inhabitants. In 1941, during the Fascist regime, has been changed to "Piana degli Albanesi".
Over the centuries the inhabitants have jealously preserved their cultural roots as the Byzantine rite, language, traditions and typical women's costumes richly embroidered, and today, in the twenty-first century, is still strong attachment to the land native.
The town preserves unique Easter traditions, held every year according to a typical itinerary: first of all is the Divine Liturgy, where the Gospel is read in seven languages, including Arabic. After the religious ceremony, there is a procession through the main street, all the women and several men dress in traditional Arbëresh costume, the procession leads to the square after the blessing the red eggs are distributed as a sign of Christ's resurrection.
Piana degli Albanesi is officially bilingual, as the official town documents are written in both Arbërisht and Italian and its citizens are trilingual, proficient in these languages and the local Sicilian. The most obvious trace of the strong ethnic identity of Piana degli Albanesi is the Albanian language (Arbërisht), spoken by all, so that is easy to understand among the people, the street signs and shop signs (such as the old Bar Shqjpëria or the Agricultural Society Shoqëri Bujqësore). The exodus from the Motherland and the distance has not dampened the Arbëreshë pride, and the community has retained its identity as much as possible. The Arbëresh language is a sub-dialect of the Tosk Albanian dialect one of the two major Albanian dialects, on which the standard Albanian language is mainly based a dialect originating from southern Albania and is fully recognized within local administrations and schools as a compulsory language ethno-linguistic minority.
(Sources: Wikipedia and various travel guides)

To calculate the final coordinates you have tho find out two year dates of great importance to Piana degli Albanesi:
A = The year of the foundation of Piana degli Albanesi.
B = The year when the bandit Salvatore "Turi" Giuliano shot down left-winged demonstrants at the annual May Day (probably in the name of the Mafia) at Portella della Ginestra near Piana degli Albanese.
You will find the cache at the North coordinates plus A / East coordinates minus B (N 37° 57.094'+A / E 013° 20.541'-B).
Have fun exploring the village,
Trollmond
Children at Easter procession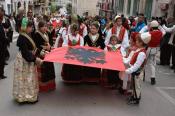 Traditional dresses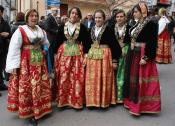 Women at the Easter procession

Buscar geocaches en las inmediaciones: todo - búsqueda - mismo tipo



Descargar como archivo: GPX - LOC - KML - OV2 - OVL - TXT - QR-Code

Al descargar este archivo, aceptas nuestros terminos de uso y Licencia de Datos.