Attention! This Geocache is "Archived"! There is no physical container at the specified (or to be determined) coordinates. In the interest of the place it should not be necessarily to search!
N 50° 26.675' E 009° 02.032' (WGS84)


Convert coordinates
Size: small
Status: Archived
Hidden on: 10 June 2011
Listed since: 02 June 2011
Last update: 02 March 2019
Listing: https://opencaching.de/OCC785


17 Found
0 Not found
1 Note
2 Maintenance logs
0 Watchers
0 Ignorers
222 Page visits
0 Log pictures
Geokrety history

Time


Description Deutsch (German)
Es ist mein erster Cache :-)

Die Koordinaten zeigen dir ein altes Bauwerk.
Da dort immer wieder Muggels sind, wir niemand Verdacht schöpfen, wenn du auf dem Bauwerk stehst ;-)
Suche das Detail, welches auf dem Bild ist, dort wirst du den Cache bestimmt finden.

Viel Spaß und viel Glück.

PS: der Verschlüsselte Hinweis könnte dir weiterhelfen

Additional hint

Decrypt
Qvr Xhafgfgbssfpurvor vfg na rvare Unygrehat nhf Rqryfgnuy.
Qbeg jb qre Fgnuy qra Fgrva oreüueg, yvrtg qre Pnpur.
A|B|C|D|E|F|G|H|I|J|K|L|M
N|O|P|Q|R|S|T|U|V|W|X|Y|Z

Pictures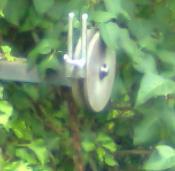 Hinweis zum Cache

Utilities
This geocache is probably placed within the following protected areas (Info): Naturpark Hoher Vogelsberg (Info)

Search geocaches nearby: all - searchable - same type



Download as file: GPX - LOC - KML - OV2 - OVL - TXT - QR-Code

When downloading this file, you accept our terms of use and Data license.


Log entries for Nidda Brücke OS

17x

0x

1x

2x



02 March 2019 mic@ has archived the cache
Wie zuvor angekündigt erfolgt hier nun die Archivierung. Sollten sich später neue Aspekte ergeben, so kann dieses Listing durch den Owner selbständig über ein "kann gesucht werden"-Log reaktiviert werden.
Falls Hilfestellung gewünscht ist, dann einfach mich oder das Team kontaktieren.
mic@ (OC-Support)




02 February 2019 mic@ has disabled the cache
Den Logs auf geocaching.com (GC2XYD8) zufolge ist der Cache nicht mehr zu finden. Der Owner sollte hier dringend vor Ort erscheinen und die Lage überprüfen; bis dahin setze ich den Status auf "Momentan nicht verfügbar". Sollte innerhalb eines Monats (02.03.2019) keine Rückmeldung erfolgen, werde ich den Cache archivieren.
Bei Unklarheiten oder Fragen kannst du gerne mich oder das Team kontaktieren.
mic@ (OC-Support)

31 July 2016, 15:49 Dalmatiner63667 found the geocache
Auf unser heutigen Runde durch den Harbwald auch hier noch schnell halt gemacht. DFDC

28 October 2015, 20:00 60316 found the geocache
Punktgenau gefunden - der Dose geht es gut [:)].
[blue]T4TC - 60316 - HJ+J[/blue]
[white]4326 - 12:05[/white]

[Show all log entries]