Alte Häuser
Alte Häuser Ich mag alte verlassene Häuser, und dachte mir euch sie auch zu zeigen...
by Schillershi

Germany > Berlin > Berlin
Attention! This Geocache is "Archived"! There is no physical container at the specified (or to be determined) coordinates. In the interest of the place it should not be necessarily to search!
N 52° 31.946' E 013° 31.101' (WGS84)


Convert coordinates
Size: micro
Status: Archived
Hidden on: 23 October 2011
Listed since: 30 March 2012
Last update: 29 December 2013
Listing: https://opencaching.de/OCDE3E
Also listed at: geocaching.com

17 Found
0 Not found
0 Notes
1 Maintenance log
2 Watchers
0 Ignorers
201 Page visits
0 Log pictures
Geokrety history


Description Deutsch (German)
Damit ihr nicht nur alte Häuser anschaut, gibt es natürlich ein Cache dazu, ein kleiner für zwischendurch... Es passen Leider keine TB´s oder Coin´s rein!(oder testen!*grins*) P.S.: man muss auf kein abgesperrtes Gelände! Bitte Stift mitbringen !!! Herzlichen Glückwunsch, FTF = hanlo

Additional hint

Decrypt
Tehra, nore jnrpufg avpug
A|B|C|D|E|F|G|H|I|J|K|L|M
N|O|P|Q|R|S|T|U|V|W|X|Y|Z

Pictures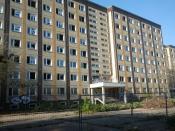 ein altes Haus

Utilities

Search geocaches nearby: all - searchable - same type



Download as file: GPX - LOC - KML - OV2 - OVL - TXT - QR-Code

When downloading this file, you accept our terms of use and Data license.


Log entries for Alte Häuser

17x

0x

0x

1x


[Show all log entries]