Description Deutsch · English
Old low-pressure gasholder Safari cache
Since there is already a gasball Safari cache, I want to make here a low-pressure gasholder Safari cache, since my big hobby is collecting and taking pictures of this unfortunately very rare gasholder.
On my website you will find someone also near your location
Webside with gasholder
To Log the cache
1. Find a low-pressure gasholder of the following types of discs gas container, bubble gasholder telescopic gasholder, spiral gasholder or membrane gasholder anywhere on earth (log of the same container by a plurality of cacher are allowed). 2. Determine the coordinates of the spot. 3. It would be nice even if you can find technical data (eg, content, year of construction, height, diameter) and to write with this in the log (not must) 4. Take a photo in which your GPS device (or you yourself) are visible and the gas holder. 5. Write the coordinates in your log and add the image.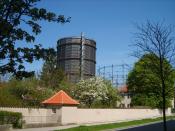 Gasbehaelter vom Gaswerk Augsburg Oberhausen

Search geocaches nearby: all - searchable - same type



Download as file: GPX - LOC - KML - OV2 - OVL - TXT - QR-Code

When downloading this file, you accept our terms of use and Data license.