Descripción English (Inglés)
Primary school was built in 1887 – 1889 as a house for poor and sick people. A founder was a general officer of Prussian Army, Ewald Georg Alexander Friedrich von Lettow. 
On the front we can see two coat of arms. On the right side family Lettow-Pomeiske, a gold deer. On the left family von Zitzewitz, on coat of arms can see a double-headed eagle.
Your task:
1) Find coat of arms
2) Take a photo in which coat of arms can be seen and second photo in which building and coat of arms can be seen.
3) Write name of family whose coat of arms is on your photo (necessary condition).

This is a virtual Safari-Cache. It isn't placed on any predefined location, but can be logged anywhere. The given coordinates are only an example
You can find other caches with the attribute "Safari-Cache" here.
Safari-Caches and their logs are shown here: Safari-Cache-Karte
The cache and its logs are shown here.
Please give the logs in the format "N/S DD MM.MMM E/W DDD MM.MMM" (z.B. "N 48 00.000 E 008 00.000"), so that the locations can be shown correctly on the Safari-Cache-Map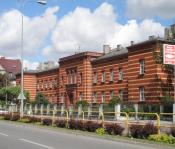 Primary school in Lutosławskiego Street
Lettow-Pomeiske coat of arms
von Zitzewitz coat of arms

Mostrar recomendaciones de los usuarios que recomiendan este geocaché: all


Buscar geocaches en las inmediaciones: todo - búsqueda - mismo tipo



Descargar como archivo: GPX - LOC - KML - OV2 - OVL - TXT - QR-Code

Al descargar este archivo, aceptas nuestros terminos de uso y Licencia de Datos.