Cache lists
Caches in english

by Le Dompteur
Infrastructure


Route

Waypoints

Time


Seasonal

Listing

Persons


Description Deutsch · English
Nobody will argue that we need mobile GPS receivers for our hobby. But probably everyone of us had already had a problem with inaccurate coordinates. Whether they come from the GPS receiver or not carefully measured coordinates by the owner is difficult to tell.
In case your GPS receiver is the problem, you will find it out here! At the given coordinates you will find the first public reference point for GPS receivers in the city of Bremerhaven.[reference]
---
log conditions:
Visit the reference point. Put your GPS receiver on the middle of the plate and compare your coordinates with the ones shown on the plate. Please comment on the accuracy of your machine in your log entry (ideally with mentioning the type of GPS you are using). If you can also provide a picture, it is even better.
The stone pillar with the metal plate on it is surrounded by cobblestones. The number of stones is needed as a password (two digits) to log this cache online.
---
By the way, my GPS (Garmin etrex 30) gave me the following data:

coordinates: N 53° 32.704' E 008° 34.304'
altitude: -10 m

The accuracy of the coordinates is good enough for me. The altitude was less satisfying ...

So, now it's your turn. Have fun!

Additional waypoints

Convert coordinates
| | |
| --- | --- |
| | Parking |

N 53° 32.651'
E 008° 34.337'
Eine der vielen Parkmöglichkeiten in der Umgebung.
One of the many parking possibilities in the area.

The additional waypoints are shown on the map when the cache is selected, are included in GPX file downloads and will be sent to the GPS device.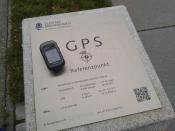 GPS-Referenzpunkt Bremerhaven

Show cache recommendations from users that recommended this geocache: all


Search geocaches nearby: all - searchable - same type



Download as file: GPX - LOC - KML - OV2 - OVL - TXT - QR-Code

When downloading this file, you accept our terms of use and Data license.