Schlösser und Burgen-Tour: Schloss Raesfeld
Schloss Raesfeld, Freiheit 27, 46348 Raesfeld, Deutschland
by Brittilein

Germany > Nordrhein-Westfalen > Borken
N 51° 45.827' E 006° 49.624' (WGS84)


Convert coordinates
Size: no container
Status: Available
Hidden on: 05 June 2019
Published on: 05 June 2019
Last update: 15 April 2020
Listing: https://opencaching.de/OC15722


3 Found
0 Not found
0 Notes
2 Watchers
0 Ignorers
26 Page visits
3 Log pictures
Geokrety history

Infrastructure

Waypoints

Seasonal

Listing

Preparation needed


Description Deutsch (German)
Dies ist eine Foto-Tour für Geocacher, die euch zu verschiedenen Schlössern und Burgen führen wird.
_______________________________________________________________________________________________________________
Sucht einen Platz von dem man einen guten Blick auf die Sehenswürdigkeit hat.
Logbedingung ist ein Foto davon zusammen mit Fahrzeug, Haustier, GPS oder anderem persönlichen Gegenstand.
Außerdem müsst ihr ein Codewort zum Loggen errätseln. Zählt dazu die "Schießscharten" links neben dem Burgtor.
Die Zahl schreibt ihr als Wort in das dafür vorgesehene Feld beim Loggen.
________________________________________________________________________________________________________________

Viel Spaß wünscht Brittilein

Additional waypoints

Convert coordinates
| | |
| --- | --- |
| | Parking |

N 51° 45.745'
E 006° 49.701'

The additional waypoints are shown on the map when the cache is selected, are included in GPX file downloads and will be sent to the GPS device.

Pictures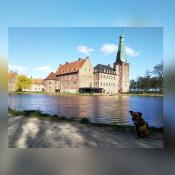 Schloss Raesfeld
Schießscharte

Utilities
This geocache is probably placed within the following protected areas (Info): Landschaftsschutzgebiet LSG-Isselquelle_ Tiergarten Raesfeld(L6) (Info), Naturpark Hohe Mark (Info)

Search geocaches nearby: all - searchable - same type



Download as file: GPX - LOC - KML - OV2 - OVL - TXT - QR-Code

When downloading this file, you accept our terms of use and Data license.


Log entries for Schlösser und Burgen-Tour: Schloss Raesfeld

3x

0x

0x


13 April 2020, 16:07 Engel2912 found the geocache
Pictures for this log entry:
Wasserschloss Raesfeld: War da!


21 March 2020, 15:44 RW71 found the geocache
Eine Radtour nach Raesfeld und zurück mit dem elmofant stand heute auf dem Programm. Dabei wurde auch der ein oder Caxhe besucht und gefunden. Dieser war einer davon. Dfdc😀😎
Pictures for this log entry:
Schloss Raesfeld


21 March 2020, 00:00 elmofant found the geocache
Bei schönsten Sonnenschein 🌞, aber kühlen Temperaturen 🌡 ging es heute mit dem Cachemobil 🚲 nach Raesfeld auf OC-Dosensuche.
Zielstrebig wurde auch das Wasserschloss angesteuert und unsere Anwesenheit mit einem Foto dokumentiert.
ツ elmofant sagt Dfd-VC ツ
Pictures for this log entry:
Wasserschloss Raesfeld