Description Deutsch (German)

Hilden ist eine Stadt mit schönen alten Häusern.

Informationen findest du z.B. unter:
https://de.wikipedia.org/wiki/Hilden

Genieße den Stadtbummel und speichere dein Foto.

Dazu benötigst du ein internetfähiges Handy, oder, falls du keines hast, jemanden der dieses Zuhause am Computer zeitgleich für dich erledigt.

Am besten stellst du dich beim Brillengeschäft an das Rechteck und schaust Richtung Bürgerhaus-Uhr.

Link zur Webcam:
https://www.hilden.de/sv_hilden/Unsere Stadt/Webcam/
Logbedingungen:

Der Cache kann nur als gefunden geloggt werden, wenn du ein Foto am Log anhängst, das von dieser Webcam, mit Dir im Bild erstellt wurde (siehe Beispiel unten).



Viel Spaß in der Hilden

Additional waypoints

Convert coordinates
| | |
| --- | --- |
| | Parking |

N 51° 09.885'
E 006° 56.026'
Mit Parkscheibe Werkstag 2 Stunden

The additional waypoints are shown on the map when the cache is selected, are included in GPX file downloads and will be sent to the GPS device.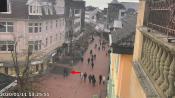 Beispiel: Webcam Hilden mit Landschildkroete Bürgerhaus Uhr Landschildkroete mit Infotafel

Search geocaches nearby: all - searchable - same type



Download as file: GPX - LOC - KML - OV2 - OVL - TXT - QR-Code

When downloading this file, you accept our terms of use and Data license.