Einweglabyrinth ---- zur Zeit leider nicht erreichbar -
by Freitraum

Germany > Sachsen-Anhalt > Saalkreis
Attention! This Geocache is "Locked, visible"! There is no physical container at the specified (or to be determined) coordinates. In the interest of the place it should not be necessarily to search!
N 51° 31.435' E 012° 08.598' (WGS84)


Convert coordinates
Size: normal
Status: Locked, visible
Time required: 0:30 h
Hidden on: 11 July 2004
Listed since: 18 September 2005
Last update: 19 June 2011
Listing: https://opencaching.de/OC016D
Also listed at: geocaching.com

10 Found
0 Not found
2 Notes
5 Watchers
0 Ignorers
60 Page visits
0 Log pictures
Geokrety history


Description Deutsch (German)
Parken kann man an den oben genannten Koordinaten. Für Kinderwagen nur bedingt geeignet, da Anstieg. Zu Fuß geht es dann weiter zu den Koordinaten N 51°31.559' O 12°08.538'. Wer mit Kindern unterwegs ist: Bitte äußerste VORSICHT, senkrechter Abhang!!! Von hier hat man einen schönen Ausblick zur Doppelkapelle zu Landsberg mit ihrer Blutsäule (Öffnungszeiten im Weltnetz). Der Cache liegt von hier aus 70m in Richtung 311° Nordreferenz. Und nun rein ins Einweglabyrinth. Im Sommer ist es hier am schönsten, aber leider ist das Einweglabyrinth dann auch verwachsen.
in: Logbuch und Kugelschreiber bitte drin lassen!!! mini Notizbuch, Giraffe, Spiel, Vögi


*Das Einweglabyrinth ist jetzt (leider) vom Archeologischem Institut Halle entdeckt(2005)und für sich in Anspruch genommen worden und wird jetzt auch gepflegt*


Additional hint

Da das Labyrinth ja nun ausgeschildert ist, kann man ja auch gleich hingehen.
A|B|C|D|E|F|G|H|I|J|K|L|M
N|O|P|Q|R|S|T|U|V|W|X|Y|Z

Pictures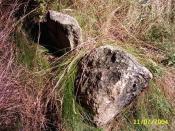 Eingang zum Labyrinth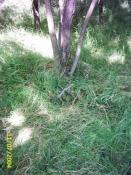 Cache

Utilities
This geocache is probably placed within the following protected areas (Info): FFH-Gebiet Porphyrkuppen westlich Landsberg (Info), Landschaftsschutzgebiet Porphyrkuppenlandschaft bei Landsberg (Info)

Search geocaches nearby: all - searchable - same type



Download as file: GPX - LOC - KML - OV2 - OVL - TXT - QR-Code

When downloading this file, you accept our terms of use and Data license.


Log entries for Einweglabyrinth ---- zur Zeit leider nicht erreichbar -

10x

0x

2x


[Show all log entries]