Park am Fischerdorf
Between Evershagen and Luetten Klein
door jennergruhle

Duitsland > Mecklenburg-Vorpommern > Rostock, Kreisfreie Stadt
Attentie! Deze cache is "Gearchiveerd"! Er bevind zich geen behuizing op de aangegeven (of uitgerekende) coördinaten. Het is dan ook raadzaam om deze cache niet te gaan zoeken!
N 54° 07.550' E 012° 03.175' (WGS84)


andere coördinaatstelsel
Grootte: klein
Status: Gearchiveerd
Verborgen op: 25. september 2005
Listed since: 26. september 2005
Laatste verandering: 18. juni 2011
Listing: https://opencaching.de/OC01A0
Ook gepubliceerd op: geocaching.com

10 Gevonden
0 Niet gevonden
1 Opmerking
0 Volgers
0 Negeerders
72 Bekeken
0 Log pictures
Geokrety verleden


Beschrijving Deutsch · English (Engels)
The park at the Fischerdorf (fisherman's village) lies between Evershagen and Luetten Klein and consists of many meadows with hedges and shrubs between them. There is a lake with ducks, some brooks, many playgrounds, a large hill and small dark woods.

The Cache is at the southwest end of the accessible range of the park at a green heating pipeline. Please, camouflage the Cache again well. Original contents:

- guidance, log sheet (please do not remove)
- blue soft ball
- small orange light heart
- coin from Nepal

No pen in the Cache - BYOP


Afbeeldingen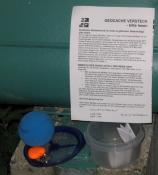 Der Cache
Position des Caches

Hulpmiddelen

Zoek caches in de omgeving: alle - zoekbaar - zelfde cache soort



Download als bestand: GPX - LOC - KML - OV2 - OVL - TXT - QR-Code

When downloading this file, you accept our terms of use and Data license.


Logs van Park am Fischerdorf

10x

0x

1x


19. oktober 2007 jennergruhle heeft een notitie geschreven
Wegen der noch andauernden Landschaftsbauarbeiten ist ein Neuauslegen des verschwundenen Caches momentan nicht möglich.

/

Due to some landscape work here the re-placement of the cache is temporarily not possible.

14. april 2007 bikonaut heeft de cache gevonden
Habe gerade mit geocaching angfangen und das war mein erster Fund. Mein 3 jähriger Sohn ist jetzt ganz wild nach Schätzen zu suchen- und ich natürlich auch.
no trade
M

05. september 2006 KarMa heeft de cache gevonden
Auf dem Weg ins Stadtzentrum haben wir hier mal gehalten und eine kleine Runde im Park gemacht. Der Cache war leicht zu finden aber wir bekamen nasse Füße. (nach dem Regen der letzten Tage kein Wunder) Im Auto die Socken gewechselt und schon konnte es weiter gehen.
Danke sagen Karl&Martina aus Glauchau in Sachsen (KarMa)


29. augustus 2006 Findling heeft de cache gevonden
Nicht ganz einfach zu finden, aber dank des GPS war es doch einfacher als gedacht.


[Alle logs laten zien]