Cache lists
Caches in english

por Le Dompteur
Infraestructura

Tiempo

Estacionales


Descripción Deutsch · English (Inglés) · Nederlands
The cache is situated in an area of a former Hawk air defence system in the Egge Mountains, 410 meters above sea level. The area is accessible to public, but driving is not permitted. There is a barrier at the entrance to the area. The way to the cache is completely tarred.
You can park your car here:
N51 37.248 E8 59.802
Please be careful when crossing the road! At the cache's start coordinates you will find a refuge with an information board of the Egge Mountain Association. It displays the distances to some POIs. No, you do not have to walk all these tracks to solve the cache. Just sum up the distances in northern direction (= in nördlicher Richtung)! Then, subtract 2 km from this sum. (Well, the Egge Mountain Association did not measure accurately.
)
Now, go for a short walk (800 meters) to a small view tower at:
N51 36.951 E9 00.226
If the weather is fine, don't miss the view! Count the number of the view tower's supporting pillars, add the number of the strange round indentations in the tar below the tower (see picture), and multiply the sum by 100.
The round indentations in the tar served as footholds for the defence system. In the meantime the third one

of them is overgrown and can barely be recognized.
The cache is not far away from the view tower. Its coordinates can be calculated as follows:
N51 36.abc E9 00.xyz
abc = (number supporting pillars + number of round indentations) * 100
xyz = (Σ distances in northern direction in kilometres) – 2


Ayuda adicional

Descripción
Jr bjr gur uvqvat cynpr gb ANGB.
A|B|C|D|E|F|G|H|I|J|K|L|M
N|O|P|Q|R|S|T|U|V|W|X|Y|Z
Schöne Aussicht auf Willebadessen / nice look-out to Willebadessen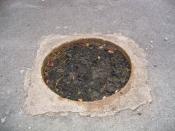 Seltsame runde Einbuchtung im Asphalt unter dem Aussichtsturm / strange round indentation in the tar below the view tower
Este geocache está probablemente en las siguientes áreas protegidas (Info): Landschaftsschutzgebiet LSG-Naturpark Eggegebirge und Teutoburger Wald (Información), Naturpark Eggegebirge und südlicher Teutoburger Wald (Información)

Buscar geocaches en las inmediaciones: todo - búsqueda - mismo tipo



Descargar como archivo: GPX - LOC - KML - OV2 - OVL - TXT - QR-Code

Al descargar este archivo, aceptas nuestros terminos de uso y Licencia de Datos.