Attention! This Geocache is "Temporarily not available"! The geocache itself or parts of it are missing or there are other issues that make a successful search impossible. In the interest of the place it should not be necessarily to search!
N 51° 17.986' E 012° 22.350' (WGS84)


Convert coordinates
Size: normal
Status: Temporarily not available
Hidden on: 26 April 2004
Listed since: 20 October 2005
Last update: 01 August 2019
Listing: https://opencaching.de/OC0407
Also listed at: geocaching.com

104 Found
0 Not found
0 Notes
3 Maintenance logs
15 Watchers
1 Ignorers
4626 Page visits
3 Log pictures
Geokrety history
1 Recommendations


Cache lists
Caches in english

by Le Dompteur
Infrastructure


Time

Seasonal


Persons


Description Deutsch · English
When you arrive by car, you have to pay parking fee, but only from

A to BC

o'clock.
 
From the parking area you walk west into the floodplain forest. On your way, you'll pass a nice playground, where children can conquer a little castle or use a great ropeway. It is not far to the park from here.
 
Follow the way towards west and find the entrance to the "Wildpark". Soon behind the main entrance, you'll meet the biggest european medium-sized wildcats. Find out how long their gestation lasts. (

DE to FG days

.) 
Proceed your walk and find the frog pond. There you'll find a wooden sign with

H

frogs on it.
Now it's time for a break at

N51 17.795 E12 21.904

. You can buy icecream or cool drinks here. There is another playground nearby, for children under the age of

I

.
Look for the bawn of "Reynard" and find out, how many puppies (

J to K

) the vixen bears after

LM days

. Did you know that they are born blind, like little cats, and open their eyes after 14 days?
When you finaly arrive at

N51 17.706 E12 21.894

, you should see a building with the number

OP

on it (not "5,5"). From here it is only a short hop to the cache. It has the following coordinates ..
 

N51° P (L+M).(J+H) F A
E012° (D-J) (I/K).(FG-DE) (A-M) (D+E)

Additional hint

Decrypt
[German] Svanyr: Ovroreohet

A|B|C|D|E|F|G|H|I|J|K|L|M
N|O|P|Q|R|S|T|U|V|W|X|Y|Z

Pictures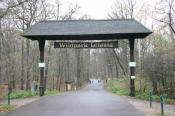 Der Wildpark

Utilities
This geocache is probably placed within the following protected areas (Info): FFH-Gebiet Leipziger Auensystem (Info), Landschaftsschutzgebiet Leipziger Auwald (Info), Vogelschutzgebiet Leipziger Auwald (Info)

Show cache recommendations from users that recommended this geocache: all


Search geocaches nearby: all - searchable - same type



Download as file: GPX - LOC - KML - OV2 - OVL - TXT - QR-Code

When downloading this file, you accept our terms of use and Data license.


Log entries for Wildpark Leipzig

104x

0x

0x

3x


[Show all log entries]