N 51° 17.986' E 012° 22.350' (WGS84)


Convertir coordenadas
Tamaño: normal
Estado: disponible
Ocultos en: 26. abril 2004
Publicado desde: 20. octubre 2005
Última actualización: 09. noviembre 2019
Listado: https://opencaching.de/OC0407
También en la categoría de: geocaching.com

107 encuentran
0 no encontrado
0 Notas
4 Maintenance logs
15 Observado
1 Ignorado
4795 Visitas
3 Los de imagenes
Historia Geokrety
1 Recomendaciones


Cache lists
Caches in english

por Le Dompteur
Infraestructura


Tiempo

Estacionales


Personas


Descripción Deutsch · English (Inglés)
When you arrive by car, you have to pay parking fee, but only from

A to BC

o'clock.
 
From the parking area you walk west into the floodplain forest. On your way, you'll pass a nice playground, where children can conquer a little castle or use a great ropeway. It is not far to the park from here.
 
Follow the way towards west and find the entrance to the "Wildpark". Soon behind the main entrance, you'll meet the biggest european medium-sized wildcats. Find out how long their gestation lasts. (

DE to FG days

.) 
Proceed your walk and find the frog pond. There you'll find a wooden sign with

H

frogs on it.
Now it's time for a break at

N51 17.795 E12 21.904

. You can buy icecream or cool drinks here. There is another playground nearby, for children under the age of

I

.
Look for the bawn of "Reynard" and find out, how many puppies (

J to K

) the vixen bears after

LM days

. Did you know that they are born blind, like little cats, and open their eyes after 14 days?
When you finaly arrive at

N51 17.706 E12 21.894

, you should see a building with the number

OP

on it (not "5,5"). From here it is only a short hop to the cache. It has the following coordinates ..
 

N51° P (L+M).(J+H) F A
E012° (D-J) (I/K).(FG-DE) (A-M) (D+E)

Ayuda adicional

Descripción
[Alemán] Svanyr: Ovroreohet

A|B|C|D|E|F|G|H|I|J|K|L|M
N|O|P|Q|R|S|T|U|V|W|X|Y|Z

Imagenes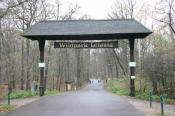 Der Wildpark

Utilidades
Este geocache está probablemente en las siguientes áreas protegidas (Info): FFH-Gebiet Leipziger Auensystem (Información), Landschaftsschutzgebiet Leipziger Auwald (Información), Vogelschutzgebiet Leipziger Auwald (Información)

Mostrar recomendaciones de los usuarios que recomiendan este geocaché: all


Buscar geocaches en las inmediaciones: todo - búsqueda - mismo tipo



Descargar como archivo: GPX - LOC - KML - OV2 - OVL - TXT - QR-Code

Al descargar este archivo, aceptas nuestros terminos de uso y Licencia de Datos.


Log de entrada por Wildpark Leipzig

107x

0x

0x

4x


[Mostrar todas las entradas de logs]