¡Atención! Este geocache es "archivado"! No es un contenedor físico a las coordenadas especificadas (o los que tienen que determinar). ¡El interés del lugar no es necesariamente la búsqueda!
N 53° 37.153' E 011° 54.313' (WGS84)


Convertir coordenadas
Tamaño: pequeño
Estado: archivado
Tiempo requerido: 0:30 h
Ocultos en: 28. agosto 2005
Publicado desde: 24. octubre 2005
Última actualización: 10. octubre 2016
Listado: https://opencaching.de/OC0613
También en la categoría de: geocaching.com

17 encuentran
0 no encontrado
1 Nota
1 Maintenance log
1 Watcher
0 Ignorado
107 Visitas
0 Los de imagenes
Historia Geokrety


Descripción Deutsch · English (Inglés)
While the giants live on the field, Knöpfchen had rent a room by an ash. The door of his room consists of fieldstones and should close after each visit! Knöpfchen lives nearby the road.<br>
If you visit Knöpfchen in the evening, there is not so much traffic on the road and than you can hear the giants. I visited the giants while the sunset…the speaking giants in the backround…the camera in the hand…it was fantastic.<br>
For this cache exists a rule. Only buttons allowed to be inside the white plasticbox!<br>

Imagenes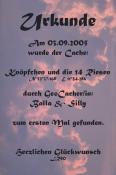 Erstfinder-Urkunde

Utilidades

Buscar geocaches en las inmediaciones: todo - búsqueda - mismo tipo



Descargar como archivo: GPX - LOC - KML - OV2 - OVL - TXT - QR-Code

Al descargar este archivo, aceptas nuestros terminos de uso y Licencia de Datos.


Log de entrada por Knöpfchen und die 14 Riesen

17x

0x

1x

1x


13. marzo 2016 URS59 ha encontrado el geocache
Die 14 Riesen waren schon von Weitem auszumachen.
Die Dose konnte eigentlich nur an einer Stelle liegen, wo wir sie auch gut fanden.
TFTC

29. diciembre 2013, 11:35 Kermon ha encontrado el geocache
Klein, aber fein. Wir sind erst ein paar Tage dabei und haben uns sehr gefreut. Vielen Dank. 

Koordinaten = okay
Versteck = okay
Behälter = okay
Logbuch = okay
viele Grüße
Kermon 

New coordinates: N 53° 37.153' E 011° 54.313', moved by 1.7 km

28. abril 2012 AndreIsaPaul ha encontrado el geocache
Auf dem Weg nach Sternberg kurz gehalten und die Dose gehoben...
Danke sagen AndreIsaPaul [:D]

17. marzo 2012 HSCA ha encontrado el geocache
Unentdeckt von den Riesen, sind wir auf ein kleines Pläuschen bei Knöpfchen eingekehrt.

Danke fürs Verstecken.

[#HSCA, C, 15:05, car, 06]

[Mostrar todas las entradas de logs]