¡Atención! Este geocache es "archivado"! No es un contenedor físico a las coordenadas especificadas (o los que tienen que determinar). ¡El interés del lugar no es necesariamente la búsqueda!
N 53° 37.153' E 011° 54.313' (WGS84)


Convertir coordenadas
Tamaño: pequeño
Estado: archivado
Tiempo requerido: 0:30 h
Ocultos en: 28. agosto 2005
Publicado desde: 24. octubre 2005
Última actualización: 10. octubre 2016
Listado: https://opencaching.de/OC0613
También en la categoría de: geocaching.com

18 encuentran
0 no encontrado
1 Nota
1 Maintenance log
1 Watcher
0 Ignorado
108 Visitas
0 Los de imagenes
Historia Geokrety


Descripción Deutsch · English (Inglés)
While the giants live on the field, Knöpfchen had rent a room by an ash. The door of his room consists of fieldstones and should close after each visit! Knöpfchen lives nearby the road.<br>
If you visit Knöpfchen in the evening, there is not so much traffic on the road and than you can hear the giants. I visited the giants while the sunset…the speaking giants in the backround…the camera in the hand…it was fantastic.<br>
For this cache exists a rule. Only buttons allowed to be inside the white plasticbox!<br>

Imagenes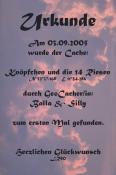 Erstfinder-Urkunde

Utilidades

Buscar geocaches en las inmediaciones: todo - búsqueda - mismo tipo



Descargar como archivo: GPX - LOC - KML - OV2 - OVL - TXT - QR-Code

Al descargar este archivo, aceptas nuestros terminos de uso y Licencia de Datos.


Log de entrada por Knöpfchen und die 14 Riesen

18x

0x

1x

1x


[Mostrar todas las entradas de logs]