N 50° 22.342' E 007° 15.163' (WGS84)


Convert coordinates
Size: no container
Status: Available
Hidden on: 15 July 2003
Listed since: 26 October 2005
Last update: 25 April 2016
Listing: https://opencaching.de/OC06D9


25 Found
0 Not found
0 Notes
2 Watchers
4 Ignorers
272 Page visits
3 Log pictures
Geokrety history


Description Deutsch (German)
Eines der wirklich vielen Basaltgebilde in einem Ort am Laacher-See

Wo unser Fäustel schallt,wo die Steine hell erklingen,
Da regt sich nichts als Lust in uns'rer Steinmetzbrust.
Wo kommen Kirchen her und Schlösser noch viel mehr,
woher die festen Brücken über vielen Flüssen,
Die wir erbauen müssen zu Wasser und zu Land
Mit uns'rer Steinmetzhand
(Auszug aus dem Steinmetzlied)

Welche Wörter stehen an der abgedeckten Stelle auf dem Stein geschrieben.

Die Lösung bitte nicht in den Log schreiben !

Das Gesuchte Wort ist das Passwort zum Loggen

Viel Spaß de Jocky

Pictures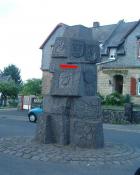 diese Säule müsst ihr suchen

Utilities
This geocache is probably placed within the following protected areas (Info): Landschaftsschutzgebiet Rhein-Ahr-Eifel (Info)

Search geocaches nearby: all - searchable - same type



Download as file: GPX - LOC - KML - OV2 - OVL - TXT - QR-Code

When downloading this file, you accept our terms of use and Data license.


Log entries for Der Basalt im Ort

25x

0x

0x


06 July 2016 mambofive found the geocache
Bei einem Abstecher von der Autobahn habe ich die Basaltsäule und die notwendige Information schnell gefunden.
Danke für's Herführen!

24 May 2016, 12:41 mega_mike found the geocache
Schöner Ort und cooler Virtueller - Danke fürs legen

mega_mike


23 April 2016, 17:11 mirabilos found the geocache
1814﹟ 17:11

Nach dem CITO hab ich noch kurz die Gelegenheit genutzt, auf dem Rückweg die zwei OC-Caches, die ich noch auf'm Gerät hatte und die in Richtung Heimweg lagen, mitzunehmen.

Bei diesem Cache fand ich zwar ein schönes Objekt in einer netten Ecke, die ich noch nicht kannte, war aber von der Cachedurchführung nicht überzeugt.

Die eMail-Bestätigung funktioniert nicht. Warum nimmst Du nicht einfach das OC-Feature namens Logpaßwort?
Pictures for this log entry:
seltsame Zeichen


last modified on 24 April 2016

12 April 2015, 19:50 MurphyWyler found the geocache
#2982 ... 19:50 ... Wir (MurphyWyler und Wildes Einhorn) waren heute mal wieder zu Besuich in Obermendig und haben es auch endlich geschafft, diesen Virtual in Angriff zu nehmen ... Leider gab es beim Versenden der Lösungsmail ein kleines Problemchen, da diese mit dem SMTP-Fehler "mailbox unavailable" zurückkam ... Nach einigen mehr oder weniger kreativen Variationen des Lösungswortes blieb der Fehler endlich aus, so dass wir einfach mal davon ausgehen, die Mail ist angekommen ... Wir erlauben uns daher diesen Virtual als gefunden zu loggen ... Falls die Mail doch nicht beim Owner angelangt ist: Beweisfoto mit unkenntlich gemachtem Lösungswort anbei ... TFTC
Pictures for this log entry:
wasserstein_mendig.jpg


[Show all log entries]