Attention! This Geocache is "Archived"! There is no physical container at the specified (or to be determined) coordinates. In the interest of the place it should not be necessarily to search!
N 48° 10.652' E 016° 17.021' (WGS84)


Convert coordinates
Size: no container
Status: Archived
Hidden on: 11 March 2005
Listed since: 17 November 2005
Last update: 29 June 2011
Listing: https://opencaching.de/OC0CB8
Also listed at: geocaching.com

3 Found
0 Not found
2 Notes
0 Watchers
0 Ignorers
17 Page visits
2 Log pictures
Geokrety history


Description Deutsch · English
1. Use your favorite search engine to find the webcam.

2. Go for the cache and look for your preferred position. Take care to be undoubtfully identifiable as a geocacher.

3. Contact an approbiate person to get the picture.

4. Post your log and show us your snap shot.

Pictures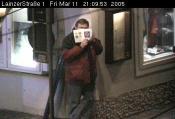 á la Wilson

Utilities

Search geocaches nearby: all - searchable - same type



Download as file: GPX - LOC - KML - OV2 - OVL - TXT - QR-Code

When downloading this file, you accept our terms of use and Data license.


Log entries for Lainzer Strasse

3x

0x

2x


14 June 2006 bagsj wrote a note
Die Kamera ist noch immer offline und wird es wohl bleiben. :(
Danke an alle Besucher!


The cam ist still offline. I don't think that it will come back. :(
Thnx to all visitors!

21 September 2005 howc found the geocache
First of two Vienna caches for me today. I think I spent the workingday rather useful, compared with the last few days.

Thx for the pic
to nick
Pictures for this log entry:
HowCVSVienna


31 August 2005 Mausbiber found the geocache
Frau Mausbiber bei einem Besuch im Nachbarbezirk *ggg*
Liebe Grüße die Mausbibers Susanna & Heinz

P.S.: NACHTRAG da wir erst seit 13.5.06 bei Opencaching registriert sind.

Pictures for this log entry:
Fr.Mausbiber


25 March 2005 Termite2712 found the geocache
Ich hoffe, wir sind auf diese Entfernung zu erkennen: links Gumbo67 und rechts Termite2712 (wir halten beide ja unverkennbar unsere GPS-Geräte in die Höhe [:)] )