Attentie! Deze cache is "Gearchiveerd"! Er bevind zich geen behuizing op de aangegeven (of uitgerekende) coördinaten. Het is dan ook raadzaam om deze cache niet te gaan zoeken!
N 48° 10.652' E 016° 17.021' (WGS84)


andere coördinaatstelsel
Grootte: geen behuizing
Status: Gearchiveerd
Verborgen op: 11. maart 2005
Listed since: 17. november 2005
Laatste verandering: 29. juni 2011
Listing: https://opencaching.de/OC0CB8
Ook gepubliceerd op: geocaching.com

3 Gevonden
0 Niet gevonden
2 Opmerkingen
0 Volgers
0 Negeerders
17 Bekeken
2 Log pictures
Geokrety verleden


Beschrijving Deutsch · English (Engels)
1. Use your favorite search engine to find the webcam.

2. Go for the cache and look for your preferred position. Take care to be undoubtfully identifiable as a geocacher.

3. Contact an approbiate person to get the picture.

4. Post your log and show us your snap shot.

Afbeeldingen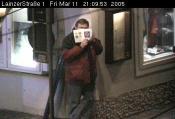 á la Wilson

Hulpmiddelen

Zoek caches in de omgeving: alle - zoekbaar - zelfde cache soort



Download als bestand: GPX - LOC - KML - OV2 - OVL - TXT - QR-Code

When downloading this file, you accept our terms of use and Data license.


Logs van Lainzer Strasse

3x

0x

2x


14. juni 2006 bagsj heeft een notitie geschreven
Die Kamera ist noch immer offline und wird es wohl bleiben. :(
Danke an alle Besucher!


The cam ist still offline. I don't think that it will come back. :(
Thnx to all visitors!

13. maart 2006 bagsj heeft een notitie geschreven
Die Webcam ist leider offline.

The webcam is offline.

21. september 2005 howc heeft de cache gevonden
First of two Vienna caches for me today. I think I spent the workingday rather useful, compared with the last few days.

Thx for the pic
to nick
Afbeeldingen voor deze log:
HowCVSVienna


31. augustus 2005 Mausbiber heeft de cache gevonden
Frau Mausbiber bei einem Besuch im Nachbarbezirk *ggg*
Liebe Grüße die Mausbibers Susanna & Heinz

P.S.: NACHTRAG da wir erst seit 13.5.06 bei Opencaching registriert sind.

Afbeeldingen voor deze log:
Fr.Mausbiber


25. maart 2005 Termite2712 heeft de cache gevonden
Ich hoffe, wir sind auf diese Entfernung zu erkennen: links Gumbo67 und rechts Termite2712 (wir halten beide ja unverkennbar unsere GPS-Geräte in die Höhe [:)] )