Attention! This Geocache is "Archived"! There is no physical container at the specified (or to be determined) coordinates. In the interest of the place it should not be necessarily to search!
N 47° 58.900' E 008° 46.260' (WGS84)


Convert coordinates
Size: normal
Status: Archived
Time required: 1:30 h Route: 3.0 km
Hidden on: 12 August 2003
Listed since: 14 August 2005
Last update: 11 August 2013
Listing: https://opencaching.de/OC0ED2
Also listed at: geocaching.com

27 Found
0 Not found
1 Note
1 Maintenance log
2 Watchers
1 Ignorers
174 Page visits
1 Log picture
Geokrety history


Description Deutsch (German) · English
Die angegeben Koordinaten geben NICHT den Cache wieder, er liegt aber in unmittelbarer Nähe, sie führen dich zu einem historischen Denkmal.

Parke beim Tuttlinger Freibad N47°59.115 E008°47.905

Die Strecke hat mittlere Steigungen und gute Waldwege. Bitte beachte die Verbotsschilder, es sind max. 2,7 km, zu Fuß oder per Rad (MTB) zu erreichen.

Wer etwas Zeit hat, nimmt den Aufstieg von Möhringen N47°57.629 E008°46.270, vorbei am dortigen Wildgehege - Mühlberghütte mit Spiel und Grillmöglichkeit.

Motorradfahrer und Scouts nehmen den kürzesten Weg ab N47°58.462 E008°47.116

Am Ziel angekommen, zeigt dir ein Stein den Blick zum Cache

Viel Spass und gutes Gelingen,
Team BMW-Biker

Additional hint

Decrypt
Thpxfg qh qhepu´f Ybpu, rf mrvtg nhs qra Pnpur
A|B|C|D|E|F|G|H|I|J|K|L|M
N|O|P|Q|R|S|T|U|V|W|X|Y|Z

Pictures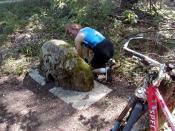 Die schöne Müllerin

Utilities

Search geocaches nearby: all - searchable - same type



Download as file: GPX - LOC - KML - OV2 - OVL - TXT - QR-Code

When downloading this file, you accept our terms of use and Data license.


Log entries for Legende vom Mahlstein

27x

0x

1x

1x


23 October 2011 JDL310 found the geocache
Gefunden und doch leider nicht. waren leider nur noch überreste da. trotzdem tolle gegend. lg JDL310

07 April 2010, 21:00 Kugelbaxe found the geocache
Den schweißtreibenden direkten Weg vom Stausee gewählt, 100/800 m/m, uff.
Schön wars trotzdem [:)].
DfdC

28 February 2010 Flying-Tigers found the geocache
Wir haben heute den Cache bei fast frühlingshaften Temperaturen aber doch noch mit mehr Schnee als erwartet gefunden. Der Cache selbst war schnell gefunden, allerdings war er so fest gefroren, dass wir einige Mühe hatten ihn zu bergen. Zum Glück hat er keinen Schaden genommen.
TFTC
Flying-Tigers

22 November 2009 willi55 found the geocache
11:33 Bei einem Besuch in Tuttlingen haben wir diesn Cache erwandert. Ja es geht schon ein bissele Berg hoch. Aber der Weg ist das Ziel.

[Show all log entries]