Attention! This Geocache is "Archived"! There is no physical container at the specified (or to be determined) coordinates. In the interest of the place it should not be necessarily to search!
N 51° 35.265' E 007° 39.465' (WGS84)


Convert coordinates
Size: micro
Status: Archived
Time required: 0:05 h Route: 0.1 km
Hidden on: 31 October 2013
Published on: 31 October 2013
Last update: 13 March 2014
Listing: https://opencaching.de/OC10341


6 Found
0 Not found
0 Notes
1 Maintenance log
2 Watchers
0 Ignorers
79 Page visits
0 Log pictures
Geokrety history

Infrastructure

Time

Seasonal


Listing

Persons


Description Deutsch (German)
Willkommen am Koppelteich Kamen,
Hier finden gestresste Menschen am Teich mit Springbrunnen Erholung, aktive Menschen treiben Sport in der Koppelteichhalle. Schüler drücken die Schulbank der anliegenden Hauptschule und demnächst gibt es hier statt der Glückauf Grundschule ein Altersheim...Jung muß alt weichen.
Wir nutzen den Ort für einen Cache und möchten so ein "Generationenübergreifendes" Hobby hierher holen..
Die Überschrift sollte eigendlich lauten "Vorne Hui hinten Pfui". 
Nehmt Ihr auf der Bank nahe am Cache Platz schaut Ihr auf den Koppelteich. Mit seinem Springbrunnen ist er nett anzusehen. Zu dem gibt es hier im Park von Zeit zur Zeit ein klassisches Konzert und auch "Kunstwerke".
Hinter Euch steht die Koppelteichhalle, von der Architektur her auch etwas besonderes. Leider gilt auch hier: "Narrenhände beschmieren Tisch und Wände..." vor den Wänden dieser Sporthalle haben die Narren auch nicht halt gemacht, leider. Es gibt auch richtige Künstler unter den Spayern, diese hier sind leider keine gewesen....Ganz in der Nähe findet Ihr dann unsere

Dose

.
 Bitte denkt an einen Stift zum loggen!


Additional hint

Decrypt
Qvr Gneahat qre Qbfr vfg rva rorasnyyf uähsvt nyf Qbfr ormrvpuargre Trtrafgnaq.
A|B|C|D|E|F|G|H|I|J|K|L|M
N|O|P|Q|R|S|T|U|V|W|X|Y|Z

Pictures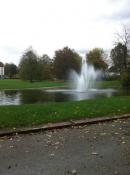 Der Koppelteich

Utilities

Search geocaches nearby: all - searchable - same type



Download as file: GPX - LOC - KML - OV2 - OVL - TXT


When downloading this file, you accept our terms of use and Data license.


Log entries for Koppelteich Kamen

6x

0x

0x

1x


[Show all log entries]