---
Broad Street lies right in the heart of Oxford's "dreaming spires", between the Weston Library, Blackwells, Trinity and Balliol Colleges on one side and the Clarendon Building, Sheldonian Theatre, Museum of the History of Science, and Exeter College on the other.
In the 10th century this site - then little more than a ditch - marked the edge of the city walls.
During the middle ages it was known as Horsemonger Street as it became the home of the city's horse market (and local pub The White Horse helps carry on part of this legacy in its name).
The webcam at www.oxfordmartin.ox.ac.uk/webcam/ (operated by the Oxford Martin School) looks East down Broad Street from its Westernmost end. That webpage also contains a helpful guide to the buildings visible in the image, if you're interested.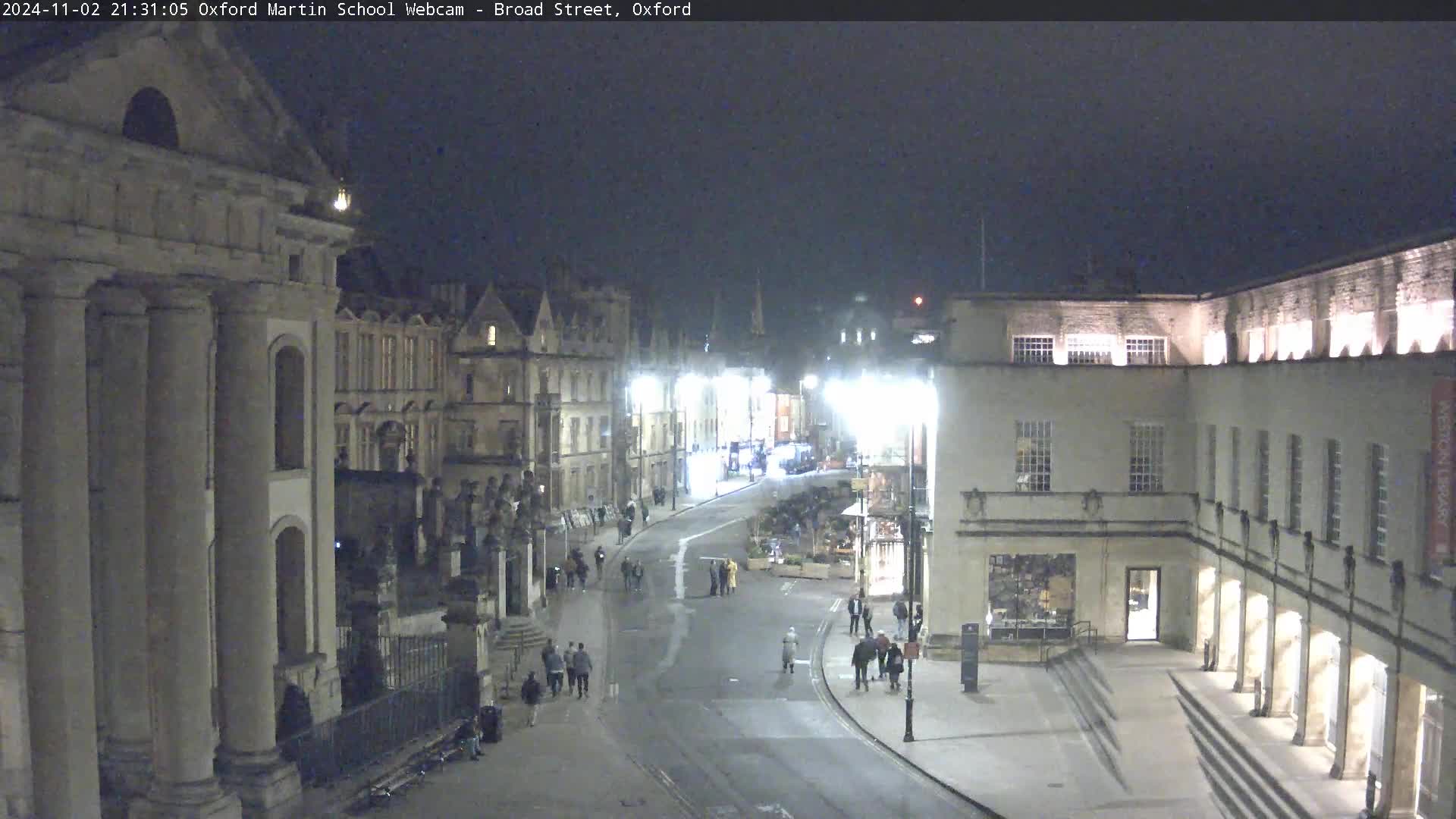 A nice livestream along the Broad Street from the Oxford Martin School @ webcamgalore.com 
Your task is to capture a photo of yourself
(either using a portable device or by having a friend take a screenshot) visible in its frame.
Post the image with your log.
If you've brought a friend and a laptop, be advised that the Weston Library has a free public WiFi hotspot.
Note that the webcam has a "lag" of up to a minute behind real-world events.
The posted coordinates are usually the best place to stand - near the North-Western corner of the steps of the archway-shaped Clarendon Building - but sometimes school and tour groups fill up the space and you're better standing on the opposite side of the road.
Please don't stand in the road to capture your picture: neither motorists nor cyclists are very forgiving of tourists shuffling about on the street, and the 20mph speed limit is routinely disobeyed.
---
---
Go to the above coordinates.  
You will be in front of a webcam that takes a picture.  
Now you need someone to save the picture of yourself taken by the webcam or save it as a screenshot on your smartphone.
To log this cache, you have to post this picture.
The picture should allow to identify you as a geocacher.
How you do that is up to you, if you want:
holding up an umbrella, banners, warning vests, balloons, headlights, or cheering into the camera... all the purpose is welcome! 
| | |
| --- | --- |
| | Parkplatz |

N 51° 45.260'
W 001° 15.357'
(Limited) paid parking available directly on Broad Street.

| | |
| --- | --- |
| | Parkplatz |

N 51° 45.315'
W 001° 15.276'
(Limited) paid parking around the corner on Parks Road.

| | |
| --- | --- |
| | interessanter Ort |

N 51° 45.283'
W 001° 15.300'
Alternative footpath in clear view of the webcam 1.

| | |
| --- | --- |
| | Station oder Referenzpunkt |

N 51° 45.142'
W 001° 14.953'
Alternative footpath in clear view of the webcam 2.

Die zusätzlichen Wegpunkte werden bei Auswahl des Caches auf der Karte angezeigt, sind in heruntergeladenen GPX-Dateien enthalten und werden an das GPS-Gerät gesendet.

Verschlüsselter Hinweis

Entschlüsseln
Vs gur jropnz vf bssyvar, cyrnfr gnxr n cubgb bs lbhefrys be lbhe TCF/fznegcubar, fubjvat gur jropnz va gur onpxtebhaq.
A|B|C|D|E|F|G|H|I|J|K|L|M
N|O|P|Q|R|S|T|U|V|W|X|Y|Z

Suche Caches im Umkreis: alle - suchbare - gleiche Cacheart



Download als Datei: GPX - LOC - KML - OV2 - OVL - TXT


Mit dem Herunterladen dieser Datei akzeptierst du unsere Nutzungsbedingungen und Datenlizenz.