Descripción Deutsch · English (Inglés)
In May 2017 the city church in Treysa was declared as a special church for cyclists and pilgrim's. On their travelling they can take a break and find a place of silence and meditation. The churchyard has been restored generously: Take a look and enjoy the panorama of the Old Town Treysa, Hephata, the valley of the Schwalm and the highlands of Gilserberg. You also can play boule at the backside of the church. The Place behind the church has been closed from 7 PM to 9 AM. So the cache has changed it's location so that it can be found 24/7.

behind natural camouflage, tweezers can be helpful
A|B|C|D|E|F|G|H|I|J|K|L|M
N|O|P|Q|R|S|T|U|V|W|X|Y|Z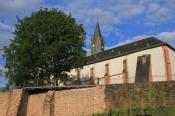 Radwege- und Pilgerkirche Treysa

Buscar geocaches en las inmediaciones: todo - búsqueda - mismo tipo



Descargar como archivo: GPX - LOC - KML - OV2 - OVL - TXT - QR-Code

Al descargar este archivo, aceptas nuestros terminos de uso y Licencia de Datos.