N 50° 40.203' E 007° 13.916' (WGS84)


Convert coordinates
Size: normal
Status: Available
Time required: 1:00 h Route: 2.0 km
Hidden on: 14 April 2006
Listed since: 14 April 2006
Last update: 14 June 2011
Listing: https://opencaching.de/OC1BB0
Also listed at: geocaching.com

110 Found
2 Not found
1 Note
7 Watchers
0 Ignorers
719 Page visits
12 Log pictures
Geokrety history
1 Recommendations


Description Deutsch (German)
Nachdem der "alte" Geisberg ja seeeehr lange inaktiv war, haben wir schnell einen neuen Cache plaziert. Damit es mit diesem aber weniger Ärger gibt, unter anderem durch recht hohen Muggelanteil, wurde der Cache etwas abseits plaziert. Aber Du wirst schon sehen...
Parken kann man, wie fast schon üblich, am Milchhäuschen-Parkplatz N50°40.703 E07°13.593. Sollte da alles voll sein, kann man auch an der Margaretenhöhe parken. Hier muß man aber teilsweise Parkgebühren zahlen. Kurz oberhalb Königswinter geht´s sonst auch noch, ist dann aber dementsprechend länger.

Viel Spaß mit diesem reaktivierten Cache!
Genieße die tolle Aussicht auf der Spitze des Geisbergs!

English version on request!

Additional hint

Decrypt
Jre hafrer Pnpurf xraag, jrvß jb re mh fhpura ung... ;-)
Qvr Pnpur-Obk ragfcevpug qre qrf "Nagent"f
A|B|C|D|E|F|G|H|I|J|K|L|M
N|O|P|Q|R|S|T|U|V|W|X|Y|Z

Pictures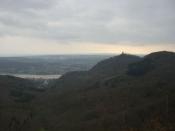 nette Aussicht
Spoiler

Utilities

This geocache is probably placed within a nature reserve! Please see here for further information.
Naturschutzgebiet NSG Siebengebirge <SU> (Info)
This geocache is probably placed within the following protected areas (Info): FFH-Gebiet Siebengebirge (Info), Naturpark Siebengebirge (Info)

Show cache recommendations from users that recommended this geocache: all


Search geocaches nearby: all - searchable - same type



Download as file: GPX - LOC - KML - OV2 - OVL - TXT - QR-Code

When downloading this file, you accept our terms of use and Data license.


Log entries for Geisberg is back!

110x

2x

1x


[Show all log entries]