¡Atención! Este geocache es "archivado"! No es un contenedor físico a las coordenadas especificadas (o los que tienen que determinar). ¡El interés del lugar no es necesariamente la búsqueda!
N 52° 34.652' E 013° 24.238' (WGS84)


Convertir coordenadas
Tamaño: micro
Estado: archivado
Ocultos en: 21. abril 2006
Publicado desde: 21. abril 2006
Última actualización: 08. diciembre 2011
Listado: https://opencaching.de/OC1C65
También en la categoría de: geocaching.com

64 encuentran
0 no encontrado
1 Nota
2 Observado
1 Ignorado
151 Visitas
2 Los de imagenes
Historia Geokrety


Descripción Deutsch · English (Inglés)
This Micro moved on 15 July 2007, since it its old dwelling became simply too wet. Now he lives before the mosaic and hopes that its papers drying remain. The Cache lies WITHIN the walls; i.e. it is only accessible at the following times: 1.4.-30.9.: 05.00-20.30 o'clock 1.10.-31.3.: 05.00-19.00 o'clock Vis A vis is a large wall mosaic in the style of the 60's. The apartment building with its plants stands likewise under monument protection and waits for investors.

Ayuda adicional

Descripción
A|B|C|D|E|F|G|H|I|J|K|L|M
N|O|P|Q|R|S|T|U|V|W|X|Y|Z

Imagenes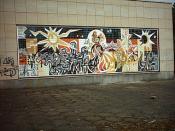 Mosaik Spoiler

Utilidades

Buscar geocaches en las inmediaciones: todo - búsqueda - mismo tipo



Descargar como archivo: GPX - LOC - KML - OV2 - OVL - TXT - QR-Code

Al descargar este archivo, aceptas nuestros terminos de uso y Licencia de Datos.


Log de entrada por Mosaikwand

64x

0x

1x


18. octubre 2010 Hausmanager ha encontrado el geocache
Sehr gut gefunden. War mein erster Cache überhaupt.Hat sehr viel Spass gemacht, so das ich das Hobby weiterführen werde...
Gruss

10. julio 2010 Die3koepfigenAffen ha encontrado el geocache
Dank der sehr genauen Koordinaten schnell entdeckt und geloggt. Danke fürs Heranführen an diesen Ort, den kannten wir noch nicht :-)
Danke für den Cache sagen
~~~Die3koepfigenAffen~~~

12. junio 2010 geocaching-ger ha encontrado el geocache
mit den koordinaten hatte ich keine probleme, gefunden habe ich ihn trotzdem nicht. das bild zeit den platz eher sauber, was dieser ort leider nicht mehr ist. TFTC

[Mostrar todas las entradas de logs]