Attenzione! Questa geocache è "archiviata"! Non c'è un contenitore fisico alle coordinate specificate (o a quelle che devono essere determinate). L'interesse del luogo non è necessariamente la ricercare!
N 52° 34.652' E 013° 24.238' (WGS84)


Conversione coordinate
Dimensioni: micro
Stato: archiviata
Nascosta il: 21. aprile 2006
Pubblicata dal: 21. aprile 2006
Ultimo aggiornamento: 08. dicembre 2011
Listing: https://opencaching.de/OC1C65
Pubblicata anche su: geocaching.com

64 trovata
0 non trovata
1 Nota
2 Osservata
1 Ignorata
151 Pagina visite
2 Log immagini
Storia Geoketry


Descrizione Deutsch · English (Inglese)
This Micro moved on 15 July 2007, since it its old dwelling became simply too wet. Now he lives before the mosaic and hopes that its papers drying remain. The Cache lies WITHIN the walls; i.e. it is only accessible at the following times: 1.4.-30.9.: 05.00-20.30 o'clock 1.10.-31.3.: 05.00-19.00 o'clock Vis A vis is a large wall mosaic in the style of the 60's. The apartment building with its plants stands likewise under monument protection and waits for investors.

Suggerimenti addizionali

Decripta
A|B|C|D|E|F|G|H|I|J|K|L|M
N|O|P|Q|R|S|T|U|V|W|X|Y|Z

Immagini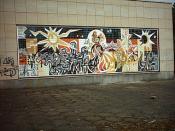 Mosaik Spoiler

Utilità

Cerca geocache vicine: tutte - ricercabile - stesso tipo



Scarica come file: GPX - LOC - KML - OV2 - OVL - TXT - QR-Code

Scaricando questo file accetti i nostri termini di utilizzo e la Licenza dati.


Log per Mosaikwand

64x

0x

1x


18. ottobre 2010 Hausmanager ha trovato la geocache
Sehr gut gefunden. War mein erster Cache überhaupt.Hat sehr viel Spass gemacht, so das ich das Hobby weiterführen werde...
Gruss

10. luglio 2010 Die3koepfigenAffen ha trovato la geocache
Dank der sehr genauen Koordinaten schnell entdeckt und geloggt. Danke fürs Heranführen an diesen Ort, den kannten wir noch nicht :-)
Danke für den Cache sagen
~~~Die3koepfigenAffen~~~

12. giugno 2010 geocaching-ger ha trovato la geocache
mit den koordinaten hatte ich keine probleme, gefunden habe ich ihn trotzdem nicht. das bild zeit den platz eher sauber, was dieser ort leider nicht mehr ist. TFTC

[Visualizza tutti i log]