Descripción Deutsch · English (Inglés)

This is a Premium Member Only cache.

This mole-hole is supposed to transport GeoKrets via tunnel to Vienna (Austria). GeoKrets love to muddle through this mysterious pipe system, so simply drop a GeoKret into the hole and it will appear in the area of Vienna.
To ensure success and transport safety please note:
Be aware of one-way traffic - only drop GeoKrets heading to Vienna. Remember to log your dropping correctly at geokrety.org!
Check the GeoKret´s label! Is the GeoKret able to get its ideas across in the destination area? Probably it´s a good idea to add an English translation if it doesn´t exist yet.
Never ever grab a GeoKret from this hole! 
Usually the GeoKretExpress is real express but from time to time GeoKrets tend to dawdle and jam the complicated transmission tunnel system. So transit time may last up to two months.
More information about the mole-hole-system: http://geokrety.org/molehole.php
And thats the way to the Mole-hole:
When arriving by car just off the "Heerstraße" is a parking lot. He can be found at N52 ° 30,690 E013 ° 12 340. From there go about 200 meters in the direction of "Jürgenwiesen". Alternatively, you can also arrive by bus. The bus stops at the "Brandensteinweg", which one you must go in for 70 meters and then turn left into the woods. From here it's about 300 meters to the Mole-hole. A GPX file with the additional waypoints you can download here.
The Mole-hole itself should work as long as possible and so I have spared no effort in order here to ensure the most appropriate care. The mole self has limited time, only creates the care of the tube system itself, the outside area must be kept and maintained by third parties. To this end, hard-working assistants were hired to take care of around the clock to the Mole-hole. Finnd the two and they will grant you admission.
Please handle the cache with care! There are two doses, a swap with the logbook and some stuff to and a can for the travelers. Do not remove any geoKrety located in this cache! Both doses are associated with magnets so that optimum stability is guaranteed, should be here always made sure that the cans in the right position to be connected to each other. Tags for this are available at both doses (see picture).

Waypoints Adicionales

Convertir coordenadas
| | |
| --- | --- |
| | Parking |

N 52° 30.690'
E 013° 12.340'
Hier kann das Cachemobil abgestellt werden.

Waypoints adicionales pueden hacer la búsqueda más fácil, por ejemplo, que apunta a un lugar de estacionamiento adecuado o inicio de un camino. Los puntos de referencia se incluyen en las descargas de archivos GPX y se enviarán al dispositivo GPS.

Ayuda adicional

Descripción
Orgjrra gur ybtf, cyrnfr or pnershyyl nf cbffvoyr, qb abg yrg bowrpgf snyy vagb gur zbyr ubyr naq uvqr oruvaq rirelguvat tbbq ntnva. Jneavat: Qbtzhttyrf!
A|B|C|D|E|F|G|H|I|J|K|L|M
N|O|P|Q|R|S|T|U|V|W|X|Y|Z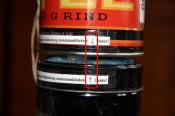 Dosenmarkierung Spoiler 1: Blick von NW - View from NW Spoiler 2: Blick von SO - View from SE
Este geocache está probablemente en las siguientes áreas protegidas (Info): Landschaftsschutzgebiet Tiefwerder Wiesen (Información)

Mostrar recomendaciones de los usuarios que recomiendan este geocaché: all


Buscar geocaches en las inmediaciones: todo - búsqueda - mismo tipo



Descargar como archivo: GPX - LOC - KML - OV2 - OVL - TXT - QR-Code

Al descargar este archivo, aceptas nuestros terminos de uso y Licencia de Datos.

KretyCoin #0013 por Schrottie
KretyCoin #0026 por Schrottie
KretyCoin #0045 por Schrottie
KretyCoin #0065 por Schrottie
KretyCoin #0070 por Schrottie
Mäuschen Pieps por Schrottie
WÜRFEL 7 por Tommysen