Description Deutsch (German)
Die Pilgerstätte ist bequem per Bus Linie 727 (Haltestelle Pätz, Siedlung) erreichbar, z.B. vom S-Bhf Königs Wusterhausen.

Gehe zur angegebenen Final-Position.
2000/10: Genau hier wurde der erste Geocache Deutschlands vergraben, der sich binnen kürzester Zeit zu einer heiligen Wallfahrtstätte für Geocacher von nah und fern entwickelte.
Auf dem Bild zu sehen ist der erste deutsche Geocache, daneben ein Garmin 76S Empfänger, ein Klappspaten Made in GDR und die originale Nachrüsttüte

Vielen Dank an 8812 (HHL) für das bereitstellen des Bildes und der Informationen!
Am 13.03.2013 wurde dieser heilige Gral leider archiviert.
 Zum loggen des Caches mache ein Foto von Dir und deinem GPS an den angegebenen Koordinaten und füge es dem Log bei, Logs ohne Foto werden kommentarlos gelöscht, auch dürft Ihr gerne eine Kerze anzünden oder einen Kranz niederlegen 

Have fun...
erdbot

Additional waypoints

Convert coordinates
| | |
| --- | --- |
| | Parking |

N 52° 13.500'
E 013° 40.613'
Hier ist eine Parkmöglichkeit vorhanden.

The additional waypoints are shown on the map when the cache is selected, are included in GPX file downloads and will be sent to the GPS device.
Tranh na qra Xbbeqvangra qnf Sbgb znpura :-Q
A|B|C|D|E|F|G|H|I|J|K|L|M
N|O|P|Q|R|S|T|U|V|W|X|Y|Z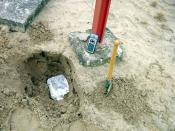 Erster deutscher Geocache!
This geocache is probably placed within the following protected areas (Info): Landschaftsschutzgebiet Dahme-Heideseen (Info), Naturpark Dahme-Heideseen (Info)

Search geocaches nearby: all - searchable - same type



Download as file: GPX - LOC - KML - OV2 - OVL - TXT - QR-Code

When downloading this file, you accept our terms of use and Data license.