Cache lists
Safari-Wegweiser: Grenzen, Länder, Städte und Gemeinden

di ekorren
Caches in english

di Le Dompteur
Nordsee-Safari

di FlashCool
Waypoints

Tempo

Stagionale

Listing

Necessaria preparazione


Descrizione Deutsch · English (Inglese)
Exclaves and Enclaves


An exclave is a smaller part of a larger political/administrational unit which has no connection to the mainland so that you need to cross other areas to get there, neither can you reach it from its mainland through "neutral areas" like international waters. Islands usually do not count as exclaves.

An enclave on the other hand, is an area which is entirely enclosed by one other area which it doesn't belong to.

Often an area is both - exclave and enclave - but not always. If an exclave has borders with several different areas or international waters, it's not an enclave, and an enclave which is an independent unit for itself is not an exclave (for lack of a mainland).


Examples:

- The german municipality of Büsingen is located within of Switzerland, with no way out of the village that does not cross Switzerland. Büsingen is therefor an exclave of Germany (and also of the state of Baden-Württemberg and Konstanz county) and also en enclave in Switzerland

- Vatican City is an enclave in Italy, but not an exclave because it's independent.

- The area around Stein am Rhein is an exclave of the swiss canton of Schaffhausen, but not an enclave because it borders to the canton of Zürich as well as Germany.


Log conditions:

- Find an exclave or enclave of an independent municipality or higher administrational unit (state, county, country...). The exclave or enclave does not need to be inhabited. A small patch of forest will suffice.

- Visit the area and make a photo within of the area which somehow proves that it's been taken inside. For example, you could photograph your GPS unit showing the current location, or some sign.

- Tell us the name of the area, what unit it belongs to and what it's enclosed by. Add the coordinates of some point to your log so that it shows up on the map.

- Prove somehow that it's an exclave or enclave. A screenshot or link to the Openstreetmap border relation will do. If you enter the name of the area into the OSM search, you usually can get a map with the borders in red like the example picture.

- One place per person or team, one visit per exclave or enclave may be logged as "found". If you go there together as a team, everyone may log. The examples may be visited just like any other place (i.e.: once).


Grenze zwischen den Landkreisen Tübingen und Reutlingen im Schönbuch
Büsingen im Landkreis Konstanz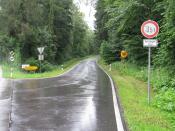 Grenze nach Deutschland an der Landstraße nach Büsingen

Visualizza le raccomandazioni degli utenti che hanno raccomandato questa geocache: all


Cerca geocache vicine: tutte - ricercabile - stesso tipo



Scarica come file: GPX - LOC - KML - OV2 - OVL - TXT - QR-Code

Scaricando questo file accetti i nostri termini di utilizzo e la Licenza dati.