Park am Fischerdorf
Im Park am Fischerdorf, Evershagen
por jennergruhle

Alemania > Mecklenburg-Vorpommern > Rostock, Kreisfreie Stadt
¡Atención! Este geocache es "archivado"! No es un contenedor físico a las coordenadas especificadas (o los que tienen que determinar). ¡El interés del lugar no es necesariamente la búsqueda!
N 54° 07.550' E 012° 03.175' (WGS84)


Convertir coordenadas
Tamaño: pequeño
Estado: archivado
Ocultos en: 25. septiembre 2005
Publicado desde: 26. septiembre 2005
Última actualización: 18. junio 2011
Listado: https://opencaching.de/OC01A0
También en la categoría de: geocaching.com

10 encuentran
0 no encontrado
1 Nota
0 Observado
0 Ignorado
72 Visitas
0 Los de imagenes
Historia Geokrety


Descripción Deutsch (Alemán) · English
Der Park am Fischerdorf liegt zwischen Evershagen und Lütten Klein und besteht aus vielen Wiesen mit Hecken und Büschen dazwischen. Es gibt einen See mit Enten, einige Bäche, viele Spielplätze, einen großen Rodelberg und kleine finstere Wäldchen.

Der Cache liegt am Ende des begehbaren Bereichs an einer grünen Heizleitung, am Südwest-Ende des Parks.
Bitte den Cache wieder gut tarnen.

Originalinhalt:

- Anleitung, Logblatt (bitte nicht entfernen)
- blauer Soft-Ball
- kleine oranges Leucht-Herz
- Münze aus Nepal

Kein Stift im Cache - BYOP

Parkplatz bei N 54° 7.500' E 012° 3.27' (Evershagen, ca. 350m Fußweg entfernt).



Imagenes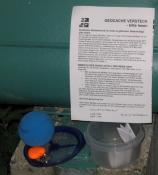 Der Cache
Position des Caches

Utilidades

Buscar geocaches en las inmediaciones: todo - búsqueda - mismo tipo



Descargar como archivo: GPX - LOC - KML - OV2 - OVL - TXT - QR-Code

Al descargar este archivo, aceptas nuestros terminos de uso y Licencia de Datos.


Log de entrada por Park am Fischerdorf

10x

0x

1x


19. octubre 2007 jennergruhle han escrito una nota
Wegen der noch andauernden Landschaftsbauarbeiten ist ein Neuauslegen des verschwundenen Caches momentan nicht möglich.

/

Due to some landscape work here the re-placement of the cache is temporarily not possible.

14. abril 2007 bikonaut ha encontrado el geocache
Habe gerade mit geocaching angfangen und das war mein erster Fund. Mein 3 jähriger Sohn ist jetzt ganz wild nach Schätzen zu suchen- und ich natürlich auch.
no trade
M

05. septiembre 2006 KarMa ha encontrado el geocache
Auf dem Weg ins Stadtzentrum haben wir hier mal gehalten und eine kleine Runde im Park gemacht. Der Cache war leicht zu finden aber wir bekamen nasse Füße. (nach dem Regen der letzten Tage kein Wunder) Im Auto die Socken gewechselt und schon konnte es weiter gehen.
Danke sagen Karl&Martina aus Glauchau in Sachsen (KarMa)


29. agosto 2006 Findling ha encontrado el geocache
Nicht ganz einfach zu finden, aber dank des GPS war es doch einfacher als gedacht.


[Mostrar todas las entradas de logs]