Attention! This Geocache is "Archived"! There is no physical container at the specified (or to be determined) coordinates. In the interest of the place it should not be necessarily to search!
N 53° 28.255' E 009° 56.346' (WGS84)


Convert coordinates
Size: normal
Status: Archived
Hidden on: 29 October 2005
Listed since: 29 October 2005
Last update: 26 August 2011
Listing: https://opencaching.de/OC0743


5 Found
0 Not found
1 Note
1 Watcher
0 Ignorers
11 Page visits
0 Log pictures
Geokrety history


Description Deutsch (German)
Dies ist fast ein Drive-In-Cache. Durch die hohen Bäume ist der
GPS-Empfang nicht sehr gut. Der Cachebehälter ist eine 10 X 10 cm
große Plastikdose mit blauem Deckel (siehe Foto).

Der Anfangsinhalt: Loggbuch mit Bleistift,Kartenspiel
und ein paar unwesentliche Kleinigkeiten.

In Anlehnung des nahen Krankenhauses liegt im Cache auch ein
gebrauchter,defekter >>>> Herzschrittmacher <<<<

Soetwas haben bestimmt viele noch nicht gesehen, geschweige denn
in der Hand gehabt.

Viel Spaß beim Suchen !

Gruß Nullgravity

Pictures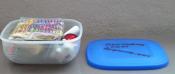 so ein Cachebehälter

Utilities

Search geocaches nearby: all - searchable - same type



Download as file: GPX - LOC - KML - OV2 - OVL - TXT - QR-Code

When downloading this file, you accept our terms of use and Data license.


Log entries for Mariahilf

5x

0x

1x


23 November 2005 Matho found the geocache
Schöner Park, nur ist es hier ein wenig laut. Den Cache haben wir gut gefunden. Danke Nullgravity.

TNLN - Tschüß - Martina und Thomas.

18 November 2005 D-Buddi found the geocache
Klar, auch ich wollte den Schrittmacher sehen ! Hoffe du hast ihn niemandem geklaut

wirklich nettes Versteck.

No Trade

MfG Jörg

10 November 2005 Oldman-74 found the geocache
Gesucht, gesucht, gesucht und nicht gefunden und dann noch ein unfreundliches GPS. Aber ich wollte doch so gerne einen Herzschrittmacher sehen, damit ich weiß was in der Brust einiger Mitbürger tickt. Also habe ich den Telefon-Joker gezogen. Ute vom Team DL8HBJ: "Wo stehst Du? aha und?" Nicht zu fassen! Da ist er ja! Statt zu telefonieren hätte ich die Brille putzen sollen! Aber ein interessantes Ding so ein Schrittmacher. No trade. Herzlichen Dank an Zero für Cache und den besonderen Inhalt sagt Walter

04 November 2005 Bluelord found the geocache
Obwohl die User bei Opencaching noch auf einigen Komfort verzichten müssen, wollten wir doch mal einen Cache suchen. Bereits nach kurzem Umsehen, hatten wir eine blaue Plastik Dose in der Hand, auf der deutlich Geocaching (dort leider bisher nicht zu finden ) zu lesen war.
Sonst ein prima Versteck. Danke für den Cache.

Zeit: 16.Uhr - No Trade

Gruß Bluelord und Bluelady


[Show all log entries]