Der Turm - La Torre
Easy drive-in at the Lake Resia
door SimFloG

Italië > Provincia Autonoma Bolzano/Bozen [3] > Bolzano-Bozen
N 46° 48.682' E 010° 32.235' (WGS84)


andere coördinaatstelsel
Grootte: micro
Status: Beschikbaar
Benodigde tijd: 0:10 h
Verborgen op: 10. augustus 2008
Listed since: 28. januari 2009
Laatste verandering: 07. september 2014
Listing: https://opencaching.de/OC760A
Ook gepubliceerd op: geocaching.com

83 Gevonden
1 Niet gevonden
0 Opmerkingen
3 Maintenance logs
3 Volgers
1 Negeerders
337 Bekeken
10 Log pictures
Geokrety verleden
2 Aanbevelingen

Infrastructuur

Route

Waypoints

Time

Seasonal

History:
In July 1939, the Montecatini company (now Edison Energia) introduced a new plan for a 22-meter deep lake, which would unify two natural lakes (Lake Resia and Lake Graun) and submerge several villages, including Graun and part of Reschen. The creation of the dam started in April 1940, but due to the war and local resistance, did not finish until July 1950. Ironically, in 1947 Montecatini received 30 milion Swiss Francs from the Swiss company Elektro-Watt for the construction of the dam (in exchange for 10 years of seasonal electricity) after the local population had voted against the company's plans to build a dam that would have submerged the Swiss village of Splügen. Graun's population did not have such success, despite a willing ear of Antonio Segni who would later become Italy's prime minister, and in total 163 homes and 523 hectares of cultivated land were submerged. The location had been inhabited since Roman times.

The tower: The top of the 14th-century church tower, now an apparent campanile, is still visible. In winter, when the lake freezes, the campanile is reachable by foot. A legend says that during the winter one can still hear church bells ring (in reality the bells were removed from the tower on July 18, 1950, a week before the demolition of the church and the creation of the lake).


THE CACHE:
The cache is a box of approx. 4*8*2 cm.

FOTO: A picture of the tower would be nice!

Gecodeerde hint

Decoderen
A|B|C|D|E|F|G|H|I|J|K|L|M
N|O|P|Q|R|S|T|U|V|W|X|Y|Z

Afbeeldingen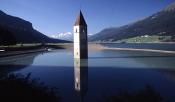 Sommer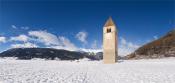 Winter

Hulpmiddelen

Cache aanbevelingen van gebruikers die deze cache aanbevolen hebben: alle


Zoek caches in de omgeving: alle - zoekbaar - zelfde cache soort



Download als bestand: GPX - LOC - KML - OV2 - OVL - TXT - QR-Code

When downloading this file, you accept our terms of use and Data license.


Logs van Der Turm - La Torre

83x

1x

0x

3x


[Alle logs laten zien]