¡Atención! Este geocache es "archivado"! No es un contenedor físico a las coordenadas especificadas (o los que tienen que determinar). ¡El interés del lugar no es necesariamente la búsqueda!
N 49° 24.885' E 008° 09.939' (WGS84)


Convertir coordenadas
Tamaño: normal
Estado: archivado
Ocultos en: 21. marzo 2004
Publicado desde: 08. septiembre 2005
Última actualización: 15. junio 2011
Listado: https://opencaching.de/OC010C
También en la categoría de: geocaching.com

31 encuentran
0 no encontrado
5 Notas
5 Observado
1 Ignorado
31 Visitas
2 Los de imagenes
Historia Geokrety
1 Recomendaciones


Descripción Deutsch · English (Inglés)
English:

The coordinates lead you to the so-called "Heidenloecher" (heathen holes), a cultural monument located on the Kirchberg (church hill) above the little town Deidesheim. A circular barrier wall of 450 m length encloses the forti-fied mountain settlement from Carolingian time (9./10. century) with foundations of 65 stone houses (at that time a rarity) and two door constructions. This village was probably built as fleeing castle to the protection from Normans and Huns attacks.
A breakpoint with beautiful prospect offers N 49° 24.896 E 008° 10.245. You can park at N 49° 24.746 E 008° 10.171. Follow the red points, it is a smaller tour of approx. 3 km all in all. Please hide the cache well after your found.

Have fun!



Imagenes Spoiler 1 (von oben/from above) Spoiler 2 (von unten/from below)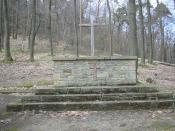 Zwischenstation

Utilidades
Este geocache está probablemente en las siguientes áreas protegidas (Info): Biosphärenreservat Pfälzerwald (Información), Naturpark Pfälzerwald (Información), Vogelschutzgebiet Haardtrand (Información)

Mostrar recomendaciones de los usuarios que recomiendan este geocaché: all


Buscar geocaches en las inmediaciones: todo - búsqueda - mismo tipo



Descargar como archivo: GPX - LOC - KML - OV2 - OVL - TXT - QR-Code

Al descargar este archivo, aceptas nuestros terminos de uso y Licencia de Datos.


Log de entrada por Heidenloecher

31x

0x

5x


[Mostrar todas las entradas de logs]