Attentie! Deze cache is "Gearchiveerd"! Er bevind zich geen behuizing op de aangegeven (of uitgerekende) coördinaten. Het is dan ook raadzaam om deze cache niet te gaan zoeken!
N 49° 24.885' E 008° 09.939' (WGS84)


andere coördinaatstelsel
Grootte: normaal
Status: Gearchiveerd
Verborgen op: 21. maart 2004
Listed since: 08. september 2005
Laatste verandering: 15. juni 2011
Listing: https://opencaching.de/OC010C
Ook gepubliceerd op: geocaching.com

31 Gevonden
0 Niet gevonden
5 Opmerkingen
5 Volgers
1 Negeerders
31 Bekeken
2 Log pictures
Geokrety verleden
1 Aanbevelingen


Beschrijving Deutsch · English (Engels)
English:

The coordinates lead you to the so-called "Heidenloecher" (heathen holes), a cultural monument located on the Kirchberg (church hill) above the little town Deidesheim. A circular barrier wall of 450 m length encloses the forti-fied mountain settlement from Carolingian time (9./10. century) with foundations of 65 stone houses (at that time a rarity) and two door constructions. This village was probably built as fleeing castle to the protection from Normans and Huns attacks.
A breakpoint with beautiful prospect offers N 49° 24.896 E 008° 10.245. You can park at N 49° 24.746 E 008° 10.171. Follow the red points, it is a smaller tour of approx. 3 km all in all. Please hide the cache well after your found.

Have fun!



Afbeeldingen Spoiler 1 (von oben/from above) Spoiler 2 (von unten/from below)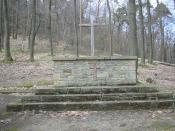 Zwischenstation

Hulpmiddelen
This geocache is probably placed within the following protected areas (Info): Biosphärenreservat Pfälzerwald (Info), Naturpark Pfälzerwald (Info), Vogelschutzgebiet Haardtrand (Info)

Cache aanbevelingen van gebruikers die deze cache aanbevolen hebben: alle


Zoek caches in de omgeving: alle - zoekbaar - zelfde cache soort



Download als bestand: GPX - LOC - KML - OV2 - OVL - TXT - QR-Code

When downloading this file, you accept our terms of use and Data license.


Logs van Heidenloecher

31x

0x

5x


[Alle logs laten zien]