Every year
do members, supporters, the board, orga and cachers from
OPENcaching Germany
and neighboring countries meet for a big gathering. Because of that, we have the great honor to welcome you to the "
Olympic OC-Summer-Games 2019
". This year at the Baltic Sea, in the city with the
most OConly-caches
nationwide
and in the listing OC
15
000 (because 1+5=6

).
We invite every opencacher and interested parties to the official meeting of the German OC-team at the


and a calm, exciting, unforgettable get-together at the fjord's beaches.
This event is mobile and takes place partly offshore!
Please indicate the number of participants in your "will-attend-logs" so that we can calculate sightseeing-programs and transports.

31.7.2019
Publication of the event-caches.
30.8.2019
11:00 am
Pre-event: Free guided tour in the Navy-Officer-School OC150C0.
31.8.2019
Saturday
1:00 pm
Meeting point at the jetty.
Official start of the 6th OC-HQ-Event and welcome of the participants by the orga-team and the board of Opencaching Germany.
In time
1:30 pm
Cruise: We take off for a boat trip in the Baltic Sea.
Cost for tickets: 13,- €. Sufficient places below deck are reserved.
2:30 pm
We OC-Vikings land in Glücksburg and have four hours time for lunch, talking, caching, bathing.
Tables are reserved for us in the restaurant Restaurant Sandwig", directly at the jetty.
in between
Handover of the donation check from the auction of the 1-million-OC-finds-coin into the treasure-chest of Opencaching.de.
6:30 pm
Return to Flensburg.
The Viking-boat brings us back to the starting point.
7:30 pm
Official end.
Arrival at the home port: Flensburg. Germany's 6th OC-HQ-event ends formally at the jetty.
from
8:00 pm
Start of the evening-event.
Surviving roughnecks are invited to an open-end at the industrial port.
1.9.2018
9:45 am
Post-event: Guided tour Hedeby, near Schleswig, "in the world of the Vikings" OC150CF.
.
The website
Flensburg-offers-a-lot-of-fun
also recommends reasonably priced, intercultural, extraordinary leisure activities.
---
Getting there:
Train: With ICE to Hamburg. Then regional train to Flensburg HBhf (Attention: In some rides a part of the train is decoupled in Neumünster and departure to Kiel. So be aware, where to take your seat).
Long-distance bus: Get off at "ZOB" or "Bahnhof".
Car: unlimited, free parking at N 54° 46.771 E 009° 25.555.
Caravan, tent: Camping Fahrensodde at N 54° 49.275 E 009° 27.813.
If you don't like to go by ship, take the bus, line 21, to the event-final, step off at "Glücksburg, Kurpark/Strand".
---
Stay:
---
Busdriving
in Flensburg:
There are two central bus-stations in the city: the "ZOB" (without linie 10 and 11) at the event's very start,
and the "Südermarkt" (with linie 10 and 11) for routes to south or west
respectively in view "Deutsches Haus" for rides to north or east.

The overland-"greyhounds" from "Autokraft" stops at both stations. A Railway-bonus-card deprices!
A bus-ticket in Flensburg does cost 2,30 €, the 24-hour-ticket 6,20 €.
Busdrives from / to Glücksburg: 3,30 €, respectively 24-hours at a 8,80 € charge.
---
We
recommend
highly that you network with other event participants at an
early stage
in order to rent a multi-bed-room in a hostel or an apartment / holiday house with several bedrooms and sea view in the surrounding area! For example here in
Holnis
,
Wassersleben
or at the very event
Sandwig
.
Be aware: the west side of the harbor celebrates party-unlimited on weekends!
From about the tip of the harbor to the museum-harbor is the north-German celebration mile located with harsh, rowdy, drunken Vinkings and a corresponding amount of blood and shards!
---
Why
Flensburg?
This small, picturesque city has and
is
something special. Located in the most beautiful
"federal state between the seas"
, it is
Germany's northernmost
and third largest city in Schleswig-Holstein. In between the centuries and wars it was German, Danish, Napoleonic occupied, Prussian, until 1920 the (still present) borderline was determined by free, democratic referendum. The
Danish minority
is enrichingly integrated and you sense and hear everywhere our common roots and open borders. Flensburg is probably known by the "KBA"
(traffic- and driving-ministry)
, "Beate Uhse"
(erotica stores)
, as a rum metropolis, naval base and handball-giant.
Why a
boat trip
?
We want the foreign event participants to fall in love with the "typically" Flensburg. As there are: sandy beaches, the Baltic Sea, close to Scandinavia, sailboats, excellent fish meats, silence, and our special kind (take a look
here:
).
Who are "
we
"?
The project "
6. OC-HQ-Orga
" is a teamwork of (currently) four caching groups from three federal German states and two nations.
---
What we
do have
:
FTF-saltwater
, "
mountains
", "
lowlands
",
wind
, a
famous beer
,
our borders
,
endemic safaris
,
transnational caches
,
Vikings
and some
superlative
OConlys:
OC14E49
at the
westernmost
end of the Baltic Sea,
OC14052
with the
#1000
OC-found of a cacher,
OC14F1C
with the
1-Million-found-log
on Opencaching.de,
OC12345
as superbonus-number, which will not be repeated for more than a dozen years.
What we
don't have
:
Ticks, bears, T5 rope-climbing-caches, mountains, lowlands (see above

).
---
What you
need
:
your usual basic-cacher-equipment (everything "enhanced" that would be needed comes with the caches!),
internet (because some caches will not be released until the event starts),
time (because there are more OConlys, than the year has days!),
ID card / passport (because some caches are located in Denmark),
swimwear (because the Baltic Sea is a must in summer),
bath towel, rain gear, a bicycle (because there is no free parking in the city) and strong calves (because it is
always
a "mountain" up or down in Flensburg - no matter where you want to go

).
What you
don't need
:
Translator (we inhabitants do not talk much, but when, in english or danish too),
visa or bureau de change for Denmark (each EC-ATM in DK offers the national currency),
your bike (here an overview of the seven bicycle-rental-stations in the city),
your car (because eleven car-sharing stations offer more climate-friendly mobility).
---
What you
should have seen
:
In addition, at the 31st of July 2019, some OConly-WhereIGos and -multis will be published, which will guide you - with a respective topic - through the city, to the
hidden
sight-seeing-spots.
Here is a list of local,
current OConlys
(filtered by "found it"s, if you're logged in):
www.OC-Flensburg.tk
N.B. All images in this listing are clickable for more infos...
---
Bus: Line 1, 4 or 7, step off at "Fördebrücke".
| | |
| --- | --- |
| | Ziel |

N 54° 50.499'
E 009° 31.868'
Schiffs-Anleger Glücksburg, Eventziel und Restaurant.

Ship's destination, the very event, and a BBQ-restaurant.

| | |
| --- | --- |
| | Station oder Referenzpunkt |

N 54° 48.275'
E 009° 26.451'
Abendveranstaltung.

Evening-event.

| | |
| --- | --- |
| | Station oder Referenzpunkt |

N 54° 47.154'
E 009° 26.245'
ZOB - Alle Busse (außer Linie 10 und 11) halten hier.
500 Meter bis zum Event-Start.

"ZOB" = Central bus station. Every bus (except line 10 and 11) stops here.
500 meters to the event's start.

| | |
| --- | --- |
| | Parkplatz |

N 54° 50.304'
E 009° 32.022'
Glücksburg "Kurpark": Unbegrenzt, kostenlos parken. 480 m bis zum Event-Ziel.

Glücksburg "Kurpark": Unlimited, free parking. 525 yd to the event-final.

| | |
| --- | --- |
| | Parkplatz |

N 54° 47.987'
E 009° 25.617'
"FSG" bis zur "Werft: Unbegrenzt, kostenlos parken. 1,2 km bis zum Event-Start.

"FSG" up to the "Ship yard": Unlimited, free parking. 0.8 miles to the event's starting-point.

| | |
| --- | --- |
| | Parkplatz |

N 54° 47.862'
E 009° 26.259'
"Industriehafen": Unbegrenzt, kostenlos parken. 800 m bis zum Event-Start.

"Industrial harbour": Unlimited, free parking. ½ a mile to the event's starting-point.

| | |
| --- | --- |
| | Parkplatz |

N 54° 48.265'
E 009° 26.497'
"Piratennest" = Abendveranstaltung: Unbegrenzt, kostenlos parken. 1,7 km bis zum Event-Start.

"The pirate's nest" = evening-event: Unlimited, free parking. 1 mile to the event's starting-point.

Die zusätzlichen Wegpunkte werden bei Auswahl des Caches auf der Karte angezeigt, sind in heruntergeladenen GPX-Dateien enthalten und werden an das GPS-Gerät gesendet.
Dozens of caches, laid on behalf of the event, will be published at the 31st of July 2019.
A|B|C|D|E|F|G|H|I|J|K|L|M
N|O|P|Q|R|S|T|U|V|W|X|Y|Z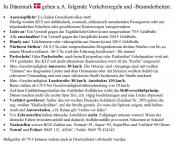 Autofahrers 10 Gebote in Dänemark